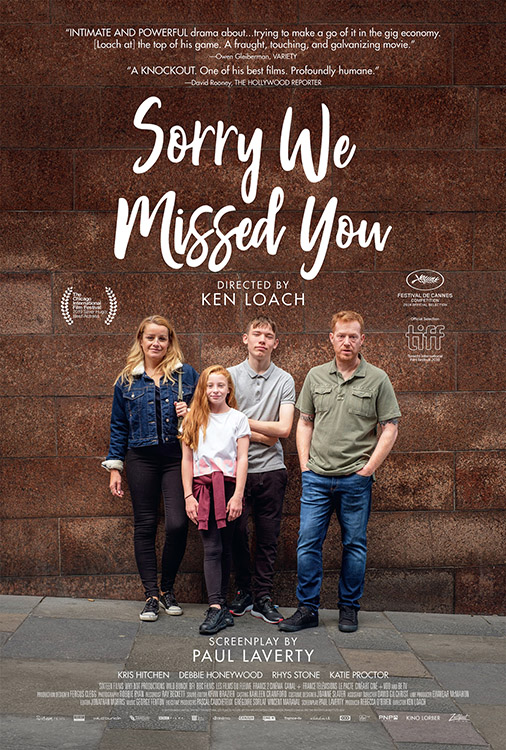 Sorry We Missed You
Directed by Ken Loach
Year: 2019
Running Time: 100 minutes
Country: U.K.
Language: English
The British working class is once again the empathetic subject of Ken Loach's SORRY WE MISSED YOU, a wrenching, intimate family drama that exposes the dark side of the so-called "gig economy".

Ricky, a former laborer, and his home-attendant wife Abby—who lost their home in the 2008 financial crash—are desperate to get out of their financial distress. When an opportunity comes up for Ricky to work as his own boss as a delivery driver, they sell their only asset, Abby's car, to trade it in for a shiny new white van and the dream that Ricky can work his way up to someday owning his own delivery franchise.

But the couple find their lives are quickly pushed further to the edge by an unrelenting work schedule, a ruthless supervisor and the needs of their two teenage children. Capturing the sacred moments that make a family as well as the acts of desperation they need to undertake to make it through each day, this universal story is skillfully and indelibly told with unforgettable performances and a searing script by Loach's long-time collaborator Paul Laverty.

"FIVE STARS! Ken Loach raises his game yet further with this gut-wrenching tale of a delivery worker driven to the brink...It's fierce, open and angry, unironised and unadorned... This brilliant film will focus minds."
---
"Critic's Pick. Brutally moving... [Ken Loach is] one of Earth's most venerable and venerated directors. He's almost without peer as a filmmaker formidably committed to exposing the sins of our wages... You believe this family. You believe in them. There are also all kinds of meaningful, seemingly disposable smart details... Globalism's faceless grind couldn't be more local, more personal... The movie's as pungent as PARASITE... But life: that's the tragedy."
---
"Wonderfully acted with grit, humor and sensitivity... authentically heartbreaking."
---
"It's difficult to imagine a more socially engaged or powerful condemnation of the exploitative gig economy than Ken Loach's SORRY WE MISSED YOU."
---
"At age 82, [Ken Loach is] doing some of his strongest work in Sorry We Missed You, a drama of such searing human empathy and quotidian heartbreak that its powerful climactic scenes actually impede your breathing... This is an expertly judged and profoundly humane movie.... You'd have to be made of stone not to be moved to your core by it."
---
"[Ken Loach is] the Bernie Sanders of filmmakers."
---
Cast
Ricky
Kris Hitchen
Abby
Debbie Honeywood
Seb
Rhys Stone
Liza Jae
Katie Proctor
Maloney
Ross Brewster
Henry
Charlie Richmond
Crew
Directed by Ken Loach
Writer Paul Laverty
A NOTE FROM THE DIETRICH THEATER
The Show must go on here at the Dietrich Theater. Thanks to Zeitgeist and their ability to provide us with excellent content at home we are proud to present Sorry We Missed You, available to screen at home. Since reopening in 2001, we have been dedicated in providing you the greatest foreign, independent and documentary films on our screens. Due to the unprecedented times we are living in now, we feel that our mission must continue by bringing these amazing films to your home. Each purchase will help us in reopening with minimal disruption and help us continue providing this kind of entertainment for years to come. Thank you for your continued support and we looking forward to welcoming you into our doors soon.
2020 Kino Lorber, Inc., All Rights Reserved