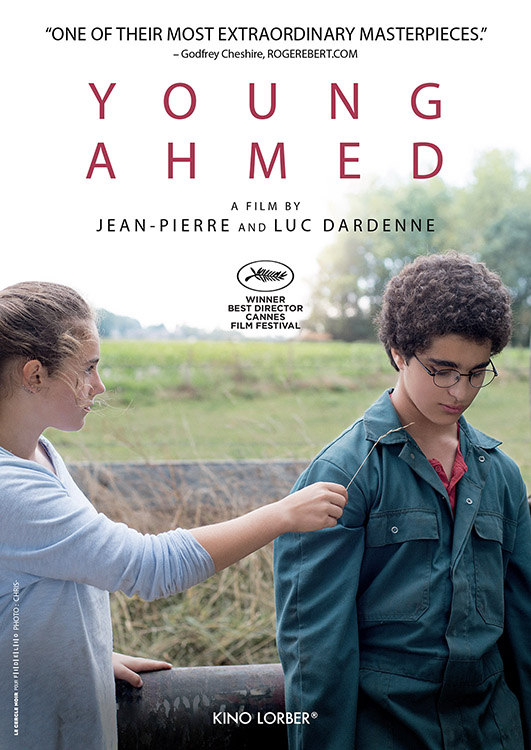 Young Ahmed
Directed by Jean-Pierre Dardenne, and Luc Dardenne
Year: 2019
Running Time: 84 minutes
Country: Belgium
Language: French and Arabic with English subtitles
The Dardenne Brothers won this year's Best Director award at the Cannes Film Festival for this brave new work, another intimate portrayal-in-furious-motion of a protagonist in crisis. The filmmakers' radical empathy alights on a Muslim teenager (extraordinary first-time actor Idir Ben Addi) in a small Belgian town who has been radicalized by his Imam despite the desperate protestations of his single mother (Claire Bodson), and who winds up hatching a murderous plot targeting his beloved teacher (Myriem Akheddiou). Taking a serious view of a difficult issue—the effect of fanaticism on the body and soul—the Dardennes here remind viewers why they continue to be at the center of 21st-century cinema. – New York Film Festival
"Belgium's Dardenne brothers turn out another precisely understated masterpiece… ultimately as humanistic and illuminating as any of their films."
---
"The Dardenne brothers Jean-Pierre and Luc are known for their emotional slice-of-Belgian-life dramas, but none of their work can prepare you for gut-punch that is Young Ahmed."
---
"A compact, gripping return to the directors' nonprofessional roots… In the lead role, Ben Addi is yet another mesmerizing young discovery by the Belgian duo."
---
"Build[s] narrative tension with a masterful and precise hand."
---
"A wise and sensitive contribution to a timely debate."
---
"Creat[es] a kind of gut-wrenching suspense that carries through the second half of the picture, right up till its very last scene."
---
"Top-notch work from the Dardennes, filled with their usual bired's-eye-view camerawork, solid acting from nonprofessionals and a searing screenplay which builds up the tension with every scene."
---
Cast
Idir Ben Addi
Olivier Bonnaud
Myriem Akheddiou
Victoria Bluck
Claire Bodson
Othmane Moumen
Crew
Directed by Jean-Pierre Dardenne and Luc Dardenne