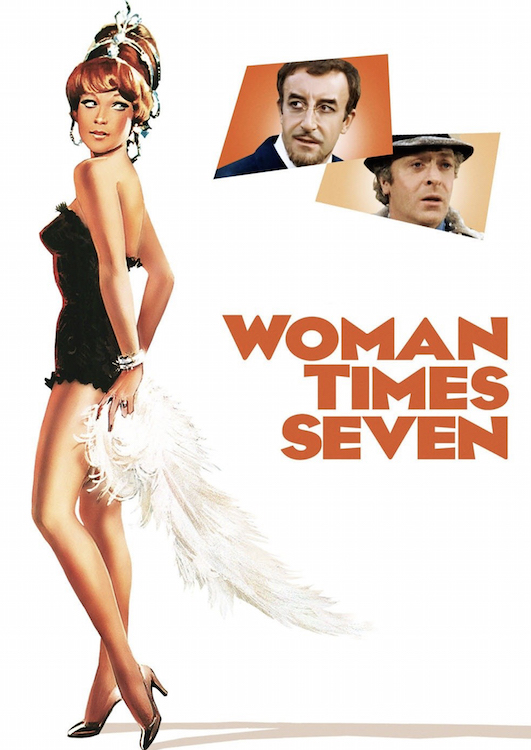 Woman Times Seven
Directed by Vittorio De Sica
Year: 1967
Running Time: 99 minutes
Country: U.S.
Language: English
Vittorio De Sica's comedy, featuring Shirley MacLaine, Alan Arkin, and Michael Caine,
follows seven short stories themed around sex, marriage and adultery.
- "Funeral Possession": A wayward widow at her husband's funeral.
- "Amateur Night": An angry wife becomes a streetwalker out of revenge.
- "Two Against One": A seemingly prudish girl turns out to be anything but.
- "Super Simone": A housewife vainly attempts to reform her bookwormish, writer husband.
- "At the Opera": A battle takes place over a highly exclusive dress.
- "Suicides": A death pact comes to frightening fruition.
- "Snow": A woman's would-be suitor turns out to be a private detective hired by her jealous husband.
Cast
Shirley MacLaine
Peter Sellers
MIchael Caine
Alan Arkin
Anita Ekberg
Rossano Brazzi
Vittorio Gassman
Lex Barker
Elsa Martinelli
Robert Morley
Patrick Wymark
Adrienne Corri
Philippe Noiret
Crew
Directed by Vittorio De Sica
Notice
: Undefined variable: m3u8Content in
/var/www/vhosts/ondemand.kinolorber.com/production/application/models/Zype.php
on line
1891