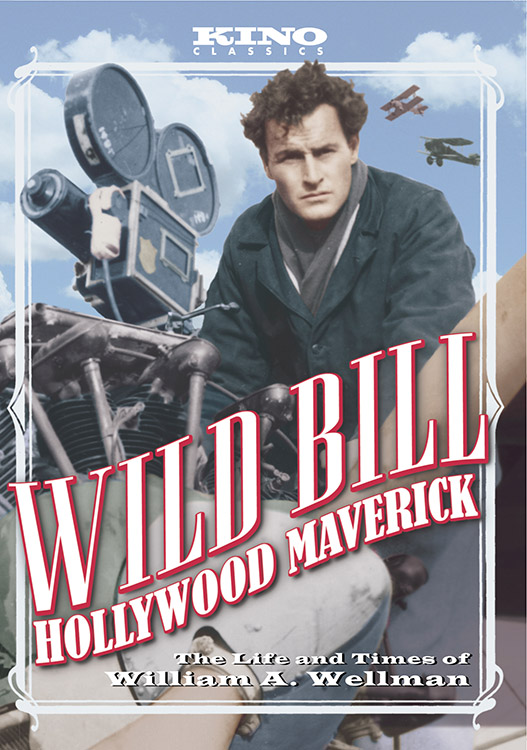 Wild Bill Hollywood Maverick
Directed by Todd Robinson
Year: 1996
Country: U.S.
Language: English
WILD BILL HOLLYWOOD MAVERICK, the acclaimed award-winning documentary, explores the life and times of the prolific American filmmaker, William A. Wellman, as well as examining the social fabric of an emerging popular culture that he was helping to construct.

"Wild Bill," as he was nicknamed, forged a directing career spanning 35 years and 76 films including the winner of the first Best Picture Oscar®, Wings (1927). Wellman, a daring fighter pilot seriously wounded in World War I, was not easily cowed by the brutality of the Hollywood studio system. He fought his way, often with both fists, carving out film classics such as Public Enemy (1931), A Star Is Born (1937), Nothing Sacred (1937), Beau Geste (1939), The Ox-Bow Incident (1943), The Story Of G.I. Joe (1945), Yellow Sky (1948), Battleground (1949) and The High and the Mighty (1954).

This superb documentary is highlighted by 28 interviews with icons of yesterday and today including Clint Eastwood, Robert Redford, Mike Connors, James Garner, Tab Hunter, Tom Laughlin, Burgess Meredith, Nancy Reagan, Robert Stack, Richard Widmark, Robert Wise, Jane Wyman and many more.
"Superb... Thrilling... Not to be missed" - Film Comment

"Every self-respecting film buff should make a beeline for Wild Bill Hollywood Maverick" - The Boston Herald
---
Cast
William Wellman
Crew
Writer Todd Robinson
Directed by Todd Robinson