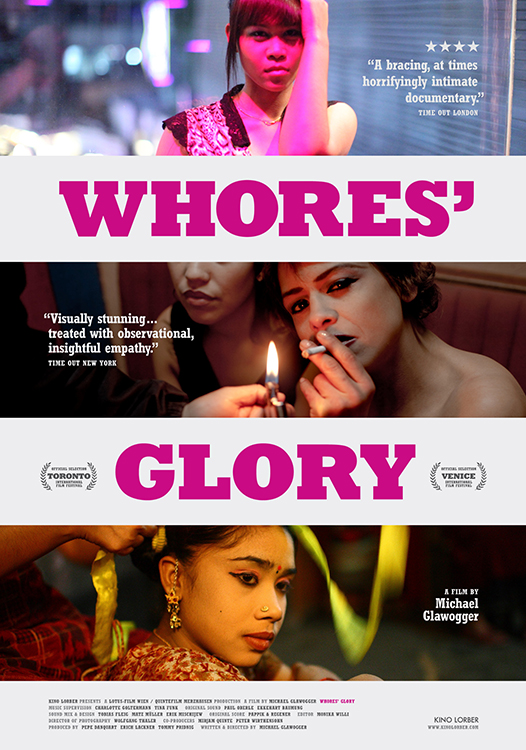 Whores' Glory
Directed by Michael Glawogger
Year: 2011
Country: Germany, Austria
Language: Thai, Bengali, Spanish
WHORES' GLORY, the third film in Michael Glawogger's globalization trilogy (following MEGACITIES and WORKINGMAN'S DEATH), is an explicit and unflinching exposé of global prostitution.

In Bangkok, Thailand, women punch a clock and wait for clients in a brightly lit glass box; in the red-light district of Faridpur, Bangladesh, a madam haggles over the price of a teenage girl; and in the border town of Reynosa, Mexico, crack-addicted women pray to a deity named Lady Death.

Winner of the Orizzonti Special Jury Prize at the 2011 Venice Film Festival, Glawogger's latest larger-than-life documentary is an audacious, non-judgmental study of sexuality, politics, human behavior and the effects of capital and religion on both women and men from starkly different cultures.
"Phenomenal ... A mesmerizing mix of journalism and art." – New York Magazine (Critics' Pick).
"A bracing, at times horrifyingly intimate documentary." – Time Out London (Four stars).
"... like the films of Frederick Wiseman, enlightening, sublimely uncomfortable, and necessary all the same." - The Village Voice
"A ground-breaking and surprisingly accurate documentary about sex workers." - The Daily Beast
---
Crew
Directed by Michael Glawogger