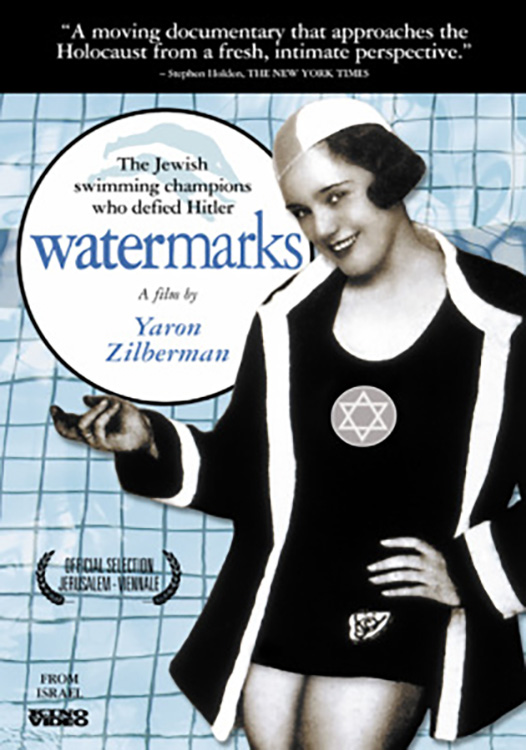 Watermarks (SD)
Directed by Yaron Zilberman
Year: 2004
Country: Israel, Middle East
Language: English, Hebrew, and German w/English subt.
English Closed Captions
"Yaron Zilberman's wonderful, heartwarming WATERMARKS" (Kevin Thomas, L.A. Times) narrates the story of the champion women swimmers of the legendary Vienna sports club Hakoah. Founded in 1909 in response to the notorious Aryan Paragraph, which forbade most Austrian sports clubs from accepting Jewish athletes, Hakoah rapidly grew into one of Europe's biggest athletic organizations -- and its women's swim team virtually dominated national competitions in the 1930s.

An uplifting tale of survival and friendship, WATERMARKS focuses on the stories of the club's surviving members, while also faithfully recounting a historical period where prejudice and violence forced these brave women into exile. Now, sixty-five years after their escape, seven of Hakoah's female swim team athletes leave their respective homes across the globe and re-unite for the first time at their old Vienna swimming pool. The result is so incredibly touching that Boston Globe critic Wesley Morris wrote, "The images of them swimming together after all those years are beautiful and a little holy: They look like angels in the water."

Alternating between painstakingly researched historical footage and contemporary interviews with the women swimmers, Yaron Zilberman daringly re-connects the lives and memories of those who challenged the status quo and, for the occasion of his movie, bravely share their complex legacy of tolerance and integrity with future generations. "As these women tell their stories in a tone of wonderment," says New York Times film critic Stephen Holden, "Watermarks becomes more than a pointed footnote to the Holocaust. It emerges as a surprisingly encouraging reflection on the distance between youth and advanced age."

This film is only available in Standard Definition and has been priced accordingly.
"A fascinating look back in time...I love this movie." - Jeffrey Lyons, NBC
"A moving documentary that approaches the holocaust from a fresh, intimate perspective." - Stephen Holden, The New York Times
"Warm, deeply felt and frequently witty...an inherently fascinating story." - George Robinson, Jewish Week
"[four-and-a-half stars] A celebration of age and resilience." - John Anderson, Newsday
A moving, poignant tale about triumph in the face of the unthinkable." - Debra Birnbaum, The New York Post
"Superb. A fascinating and little-known story of European Jewish life in the years before the Holocaust." - Saul Austerlitz, The Forward
"A fascinating account of strength and solidarity" - Lisa Nesselson, Variety
---
Cast
Judith Haspel
Trude Hirschler
Anni Lampl
Hanni Lux
Crew
Writer Yaron Zilberman
Directed by Yaron Zilberman