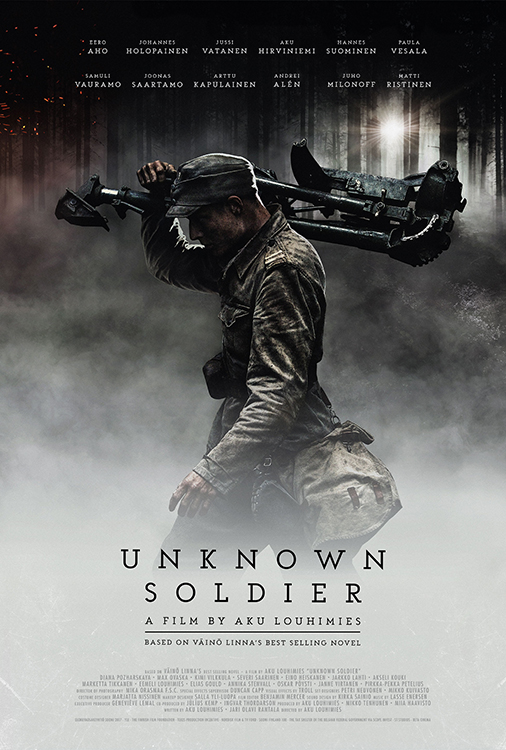 The Unknown Soldier
Directed by Aku Louhimies
Year: 2017
Country: Finland
Language: Finnish with English Subtitles
English Closed Captions
THE UNKNOWN SOLDIER by award-winning Finnish director Aku Louhimies, follows a platoon of Finnish soldiers on a tour of duty that lasts for more than three years at the end of World War II. The film tells the story of Rokka, Kariluoto, Koskela, Hietanen, and their brothers-in-arms, showing how friendship, humor, and the will to live unite these men on their way to and from the battlefield. The war changes each of the soldiers, as well as the lives of those on the home front, leaving its mark on the entire nation. Based on the classic novel by Väinö Linna, THE UNKNOWN SOLDIER broke box office records in Finland, becoming the highest-grossing movie in decades.
"Unknown Soldier is a tense, realistic war drama that doesn't shy away from the horrors of battle. It doesn't overdramatize the emotions, nor does it have a soundtrack that overpowers the film. Surprisingly, the use of music is pretty minimal here, but when it's present, it works wonderfully. If there were another war film to which I would compare Louhimies's, it would be Terrence Malick's The Thin Red Line. Both are a slower, more poetic approach to the war genre, and are beautifully directed."
---
"At a time when wars are still being started by those greedy with power, The Unknown Soldier reminds us to remember who will ultimately pay the price."
---
Cast
Rokka
Aero Aho
Kariluoto
Johannes Holopainen
Koskela
Jussi Vatanen
Crew
Directed by Aku Louhimies