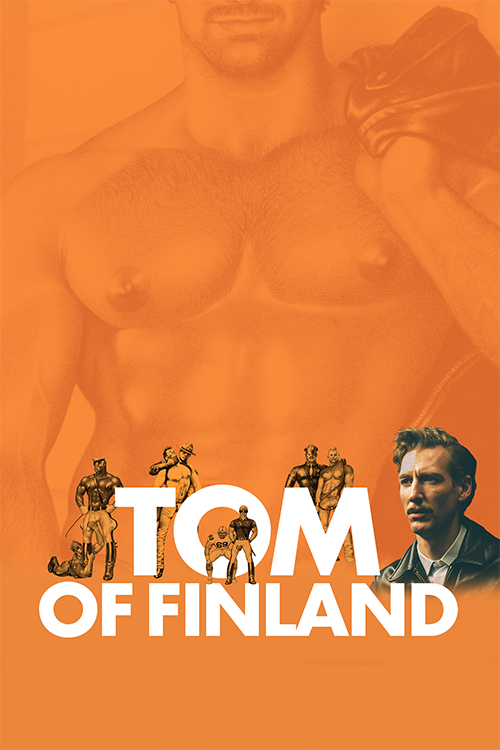 Tom of Finland
Directed by Dome Karukoski
Year: 2017
Country: Finland, Denmark, Sweden, Germany
Language: English and Finnish with English subtitles
The proudly erotic drawings of artist Touko Laaksonen, known to the world as Tom of Finland, shaped the fantasies of a generation of gay men, influencing art and fashion before crossing over into the wider cultural consciousness. But who was the man behind the leather? Dome Karukoski's stirring biopic follows his life from the trenches of WWII and repressive Finnish society of the 1950s through his struggle to get his work published in California, where he and his art were finally embraced amid the sexual revolution of the 1970s. Tom's story is one of love, courage and perseverance, mirroring the gay liberation movement for which his leather-clad studs served as a defiant emblem.
"Terrific. A fascinating and fitting tribute to a true subversive gay hero."
---
"Tom of Finland does an excellent job of illuminating one of the most influential artists of the 20th century."
---
"Truly breathtaking. Pekka Strang plays the title character with alternating layers of warmth, anxiety, and playfulness."
---
"Tom of Finland is evidence of a taboo finding and flaunting its way into the mainstream."
---
"Seeing [Tom]'s fantasies realized exponentially confirms that his erotica is timeless. Tom of Finland commemorates gay culture's Toulouse-Lautrec."
---
"Aided by a compelling lead performance from Pekka Strang, director Dome Karukoski offers a fascinating insight into Tom of Finland's growing popularity and the gay liberation movement of the late 20th century."
---
"Handsomely photographed and sensitively acted. Captures a sense of rebellious excitement generated by living an outlaw life just by loving someone of the same sex or wearing jackboots and leather trousers."
---
"It's high time Tom of Finland becomes more known to the world. His work was so influential and accomplished that many of the world's great museums — including SFMOMA and the Berkeley Art Museum — have his art in their permanent collections."
---
"Tom of Finland entertainingly recounts an intriguing and vital chapter of 20th-century gay history with style and deference."
---
"Adroitly traces the artist's life from his struggles in an underground society to his connection with a queer community and his success in America... viewers get to know and understand the man behind the homoerotic images."
---
Cast
Pekka Strang
Lauri Tilkanen
Jessica Grabowsky
Werner Daehn
Crew
Writer Aleksi Bardy
Directed by Dome Karukoski