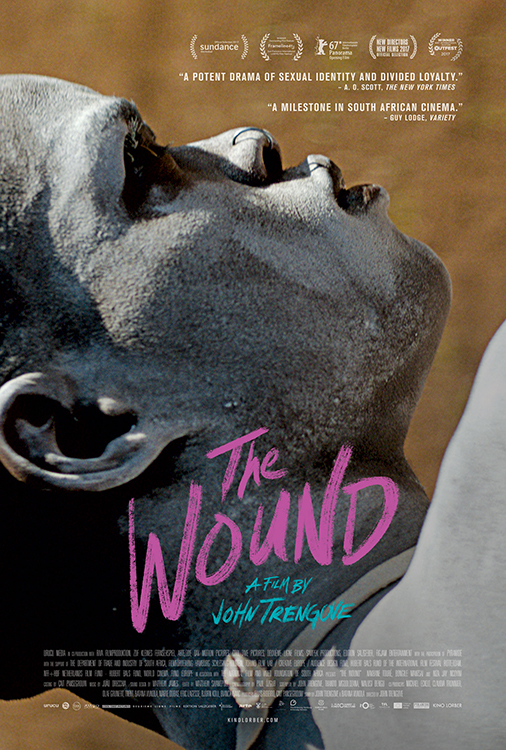 The Wound
Directed by John Trengove
Year: 2017
Country: South Africa, Germany, Netherlands, France
Language: English and Xhosa with English subtitles
Shortlisted for the Academy Award® for Best Foreign Language Film! Brimming with sex and violence, THE WOUND is an exploration of tradition and sexuality set amid South Africa's Xhosa culture. Every year, the tribe's young men are brought to the mountains of the Eastern Cape to participate in an ancient coming-of-age ritual. Xolani, a quiet and sensitive factory worker (played by openly gay musician Nakhane Touré), is assigned to guide Kwanda, a city boy from Johannesburg sent by his father to be toughened up, through this rite of passage into manhood. As Kwanda defiantly negotiates his queer identity within this masculine environment, he quickly recognizes the nature of Xolani's relationship with fellow guide Vija. The three men commence a dangerous dance with each other and their own desires and, soon, the threat of exposure elevates the tension to breaking point. The Wound had its world premiere at the 2017 Sundance Film Festival, was the opening night selection of Berlinale Panorama, and won Outstanding First Feature at Frameline in San Francisco.
"Affecting and suspenseful. A potent drama of sexual identity and divided loyalty."
---
"A milestone in South African cinema."
---
"Takes real chances. Strong performances are fueled by the wild beauty of the rural setting."
---
Cast
Nakhane Touré
Bongile Mantsai
Niza Jay Ncoyini
Crew
Directed by John Trengove
Writers John Trengove, Thando Mgqolozana and Malusi Bengu
Produced by Elias Ribeiro and Cait Pansegrouw