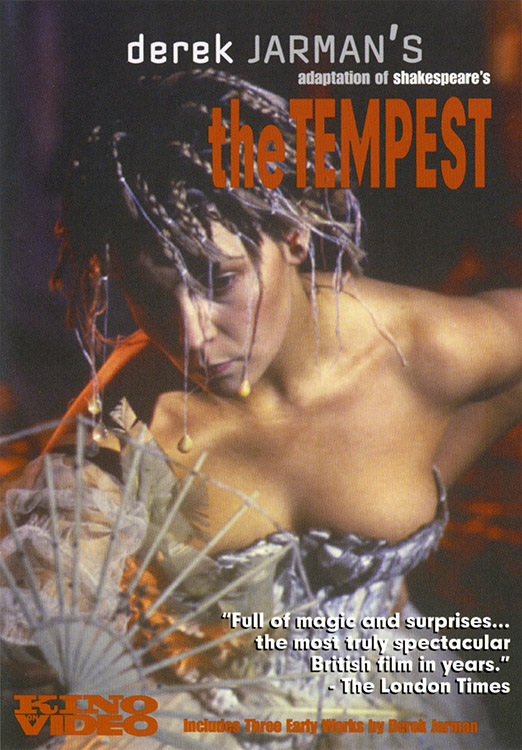 The Tempest
Directed by Derek Jarman
Year: 1979
Country: U.K.
Language: English
English Closed Captions
Shot on location at the ancient and ghostly Stoneleigh Abbey, THE TEMPEST is Derek Jarman's (War Requiem) acclaimed 1979 film adaptation of William Shakespeare's final great play.

It is the story of Prospero the magician, who lives on an island with his nubile daughter on an enchanted island and punishes his enemies when they are shipwrecked there. Essentially a study of sexual and political power in the guise of a fairy tale, in Jarman's hands, THE TEMPEST becomes an original and dazzling spectacle mixing Hollywood pastiche, high camp, and gothic horror. The film recalls the innocent homoeroticism of Pasolini's versions of classics, while its lush sense of decor and color is worthy of Minnelli.

The master stroke in THE TEMPEST is the finale, a wedding feast designed and choreographed as a full-scale production number, with the veteran black musical comedy star Elisabeth Welch wafting her way through a chorus line of hunky sailors as she belts out "Stormy Weather." It is one of the great scenes in contemporary British cinema.
"Full of magic and surprises...the most truly spectacular British film in years." - The London Times
---
Cast
Elisabeth Welch
Heathcote Williams
Karl Johnson
Peter Bull
Toyah Wilcox
Crew
Cinematographer Peter Middleton
Writers Derek Jarman and William Shakespeare
Composed by John Lewis and Brian Hodgson
Directed by Derek Jarman