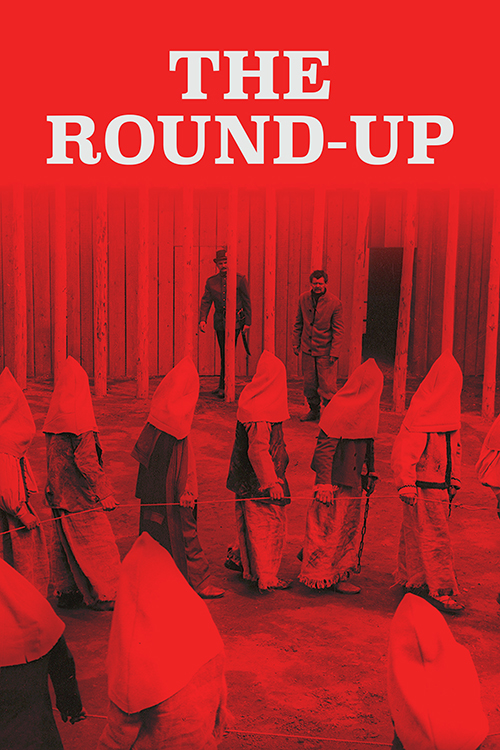 The Round-Up
Directed by Miklós Jancsó
Year: 1966
Country: Hungary
Language: Hungarian w/ English subt.
Miklós Jancsó's most renowned work depicts a prison camp in the aftermath of the 1848 Hungarian Revolution. After the Hapsburg monarchy succeeds in suppressing Lajos Kossuth's nationalist uprising, the army sets about arresting suspected guerillas, who are subject to torture and other mental trickery in an effort to extract information about highwayman Sándor Rózsa's band of outlaws, still waging armed struggle against the Hapsburgs on the outside. Jancsó's camera stays in constant, hypnotic motion, taking in the developing dynamics and antagonisms between the prisoners and their captors, meditating upon and exalting its characters' resistance and perseverance in the face of brutal, authoritarian repression. A true classic of world cinema.

"I have never really been exposed to such a sensibility in the camera movements before (…) and the ending of THE ROUND-UP is one of the greatest summations of a picture ever created." –Martin Scorsese, Cannes Film Festival, 2010

Restored in 4K from its original 35mm camera negative by National Film Institute Hungary – Film Archive.
"I have never really been exposed to such a sensibility in the camera movements before (…) and the ending of The Round-Up is one of the greatest summations of a picture ever created."
---
"The film is so precisely choreographed that the patterns play on the mind until they become clear and obvious in their meanings. The camera style is beautiful but almost merciless...No one has tried quite the same thing in the same way, and that is his most formidable legacy."
---
"Jancsó unfolds the ruthless spectacle of tyranny with a combination of meticulous detail and grand choreography, displaying mass assemblages and head-to-head confrontations with fanatical precision. He blends the abstractions of power with intimate portraiture of perpetrators and victims alike."
---
Cast
János Görbe
Zoltan Latinovits
Tibor Molnar
Gábor Agárdi
András Kozák
Béla Barsi
József Madaras
János Koltai
Crew
Directed by Miklós Jancsó
Writer Gyula Hernádi