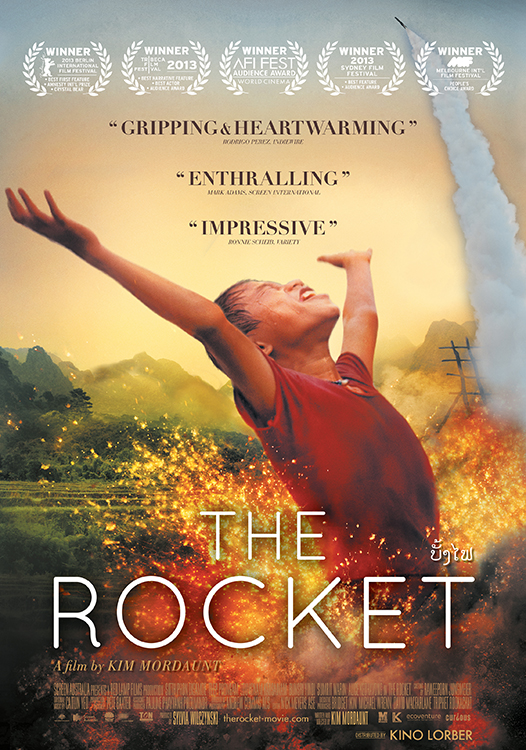 The Rocket
Directed by Kim Mordaunt
Year: 2013
Country: Australia
Language: Laotian w/English subtitles
One of the best reviewed movies of 2013, The Rocket is a blazingly original drama about how a boy, a James Brown impersonator, and a cylinder full of explosives can overcome any obstacles life puts in their way.

Growing up in rural Laos, Ahlo (Sitthiphon Disamoe) is a mischievous 10-year-old who lives without a care in the world. After a family tragedy, his grandmother declares that Ahlo is cursed, and as they are forcibly moved from their land and fall deeper into poverty, he starts to believe it. Only the friendship of an orphaned girl and her eccentric James Brown-loving uncle restore joy in his life. Traveling with them on a perilous journey to a new home, they come across a local Rocket Festival. The builder of the most powerful projectile wins a lucrative prize which would secure Ahlo's future and rid him of his curse.

With an "exuberant performance" (NPR) from Disamoe, "if you aren't moved by The Rocket, your heart is defective" (Film.com).
Cast
Ahlo
Sitthiphon Disamoe
Kia
Loungnam Kaosainam
Purple
Thep Phongam
Taitok
Bunsri Yindi
Mali
Alice Keohavong
Toma
Sumrit Warin
Crew
Directed by Kim Mordaunt
Writer Kim Mordaunt
Produced by Sylvia Wilczynski