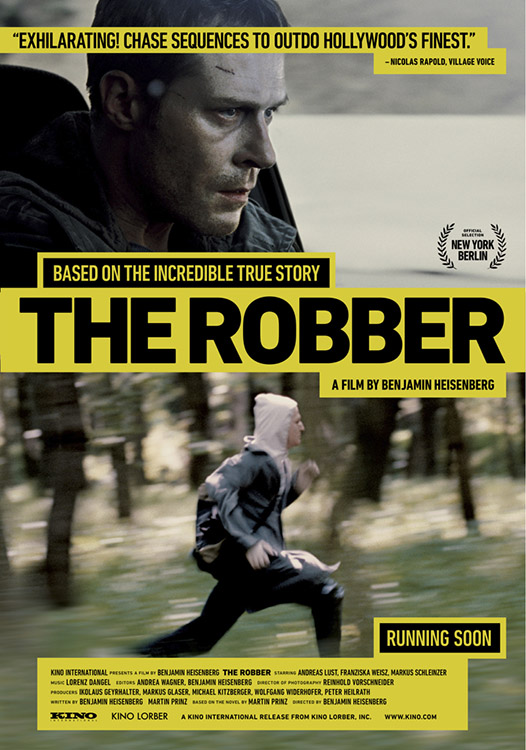 The Robber
Directed by Benjamin Heisenberg
Year: 2010
Country: Austria, Germany
Language: German with optional English subtitles
Based on the real-life story of one of Austria's most-wanted bank robbers, THE ROBBER is a breathless thriller "as lean and taut as its marathon-winning title character." (LA Times).

Johann Rettenberger leads a double life as a championship runner and serial bank robber, sprinting between heists (and away from police cars) as many as three times a day. As portrayed in a riveting central performance by Andreas Lust (Munich), Rettenberger is an obsessive loner more concerned with his lap times than other human beings. Once he falls into a relationship with a social worker, Erika (Franziska Weisz), it becomes impossible to hide his crimes, and the violence he reserved for his robberies starts seeping into his daily life.

Director Benjamin Heisenberg has created a powerful, visceral study of a pathological adrenaline junkie. But THE ROBBER, which is already slated for a Hollywood remake, is more than that: It's also an action movie filled with "turbocharged chase-and-escape sequences" (Minneapolis Star-Tribune) that will leave you gasping.
"Exhilarating...an intelligently shot study in self-control and calculated release, it's equally surprising as an action film and character portrait." - Nicolas Rapold, The Village Voice

"If you like the 'Bourne' movies but wish they were more cerebral...you might be the perfect audience for 'The Robber.'" - Mike Hale, The New York Times

"A nimble, dynamic character study..." - Melissa Anderson, The Village Voice

"A quiet, engrossing and delicate piece of filmmaking" - Scott Ross, NBC

"I stopped everything, turned off the computer, turned the ringer off my phone and just became wholly absorbed by the cinema of this movie. DO NOT MISS THIS MOVIE! Seriously. It is just amazing." - Harry Knowles, Aintitcool News.
---
Cast
Johann Rettenberger
Andreas Lust
Crew
Writers Martin Prinz and Benjamin Heisenberg
Directed by Benjamin Heisenberg