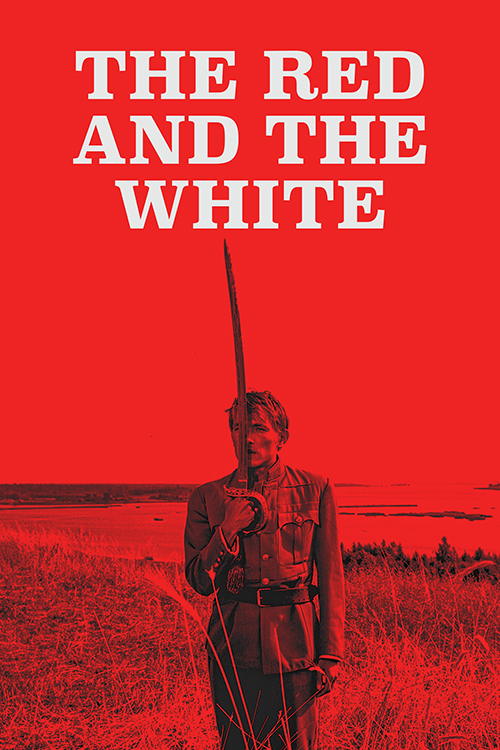 The Red and the White
Directed by Miklós Jancsó
Year: 1967
Country: Hungary, Russia
Language: Hungarian with English subtitles, Russian with English Subtitles
A haunting, powerful film about the absurdity and evil of war. Set in Central Russia during the Civil War of 1918, THE RED AND THE WHITE details the murderous entanglements between Russia's Red soldiers and the counter-revolutionary Whites in the hills along the Volga. The epic conflict moves with skillful speed from a deserted monastery to a riverbank hospital to a final, unforgettable hillside massacre.

THE RED AND THE WHITE is a moving visual feast where every inch of the Cinemascope frame is used to magnificent effect. With his brilliant use of exceptionally long takes, vast and unchanging landscapes and Tamas Somlo's hypnotic black and white photography, Jancsó gives the film the quality of a surreal nightmare. In the director's uncompromising world, people lose all sense of identity and become hopeless pawns in the ultimate game of chance.

Restored in 4K from its original 35mm camera negative by National Film Institute Hungary – Film Archive.
"Working in elaborately choreographed long takes with often spectacular vistas, Jancsó invites us to study the mechanisms of power almost abstractly, with a cold eroticism that may suggest some of the subsequent work of Stanley Kubrick. If you've never encountered Jancsó's work, you shouldn't miss this. He may well be the key Hungarian filmmaker of the sound era, and certain later figures such as Bela Tarr would be inconceivable without him."
---
Cast
András Kozák
Krystyna Mikolajewska
Jácint Juhász
Tatyana Konyukhova
Mikhail Kozakov
Nikita Mikhalkov
Crew
Directed by Miklós Jancsó
Writers Gyula Hernádi and Georgij Mdivani
Cinematographer Tamas Somlo