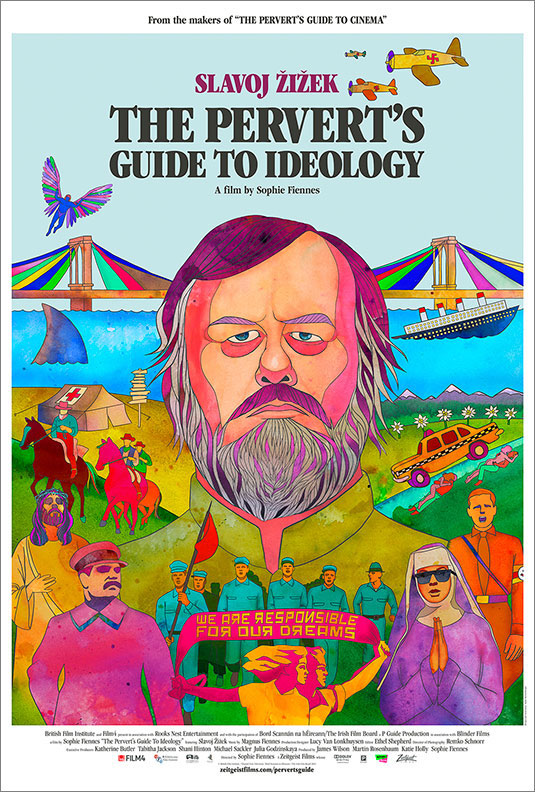 The Pervert's Guide to Ideology
Directed by Sophie Fiennes
Year: 2013
Optional English Subtitles
Cultural theorist superstar Slavoj Zizek re-teams with director Sophie Fiennes (The Pervert's Guide to Cinema) for another wildly entertaining romp through the crossroads of cinema and philosophy. With infectious zeal and a voracious appetite for popular culture, Zizek literally goes inside some truly epochal movies, all the better to explore and expose how they reinforce prevailing ideologies. As the ideology that undergirds our cinematic fantasies is revealed, striking associations emerge: What hidden Catholic teachings lurk at the heart of The Sound of Music? What are the fascist political dimensions of Jaws? Taxi Driver, Zabriskie Point, The Searchers, The Dark Knight, John Carpenter's They Live ("one of the forgotten masterpieces of the Hollywood Left"), Titanic, Kinder Eggs, verité news footage, Beethoven's "Ode to Joy" and propaganda epics from Nazi Germany and Soviet Russia all inform Zizek's stimulating, provocative and often hilarious psychoanalytic-cinematic rant.
Intellectual rock star Slavoj Zizek dishes out another action-packed lesson in film history and Marxist dialectics with The Pervert's Guide to Ideology, a riveting and often hilarious demonstration of the Slovenian philosopher's uncanny ability to turn movies inside out and accepted notions on their head.
---
Irresistible.... Outlaw philosopher Slavoj Zizek...makes a terrifically entertaining host.
---
Discovers the cinematic in the philosophical.
---
I urge you to rush to theaters to experience this amazingly intelligent, fun and funny piece of work.
---
Oddly hypnotic, even lovable... Rich fun and collectably eccentric.
---
Zizek is as entertaining as he is provocative; as playfully witty as he is chaotic.... Frequently hilarious, occasionally baffling and often gleefully wrong-headed, Zizek is an engaging guide on this whistle-stop tour of his highly distinctive brand of philosophy.
---
Playful and stimulating.... This is film criticism as stand-up comedy or performance art: Zizek plays up to the camera but that doesn't diminish his wit or his insights.
---
FOUR STARS! CRITICS' PICK. EXHILARATING! Though Zizek is a man to be taken seriously, he's not averse to donning a nun's habit—and for that we love him.
---
Taken in the right spirit, The Pervert's Guide To Ideology is a lot of fun, like watching a movie with a friend, then going out for drinks and talking late into the night.
---
Frequently engaging, entertaining and stimulating.
---
His analyses of culture and movies witty, insightful and usefully thought-provoking.
---
We can't think of a better form of counter-programming to any of your current multiplex options.
---
Žižek's sense of ideology as not imposed but spontaneous, desired, perhaps necessary, and even a form of fun.
---
Žižek has panache in spades, no matter what you think of his theories, and Fiennes's staging keeps the film visually interesting in a way that supports Žižek's ideas.
---
Crew
Directed by Sophie Fiennes