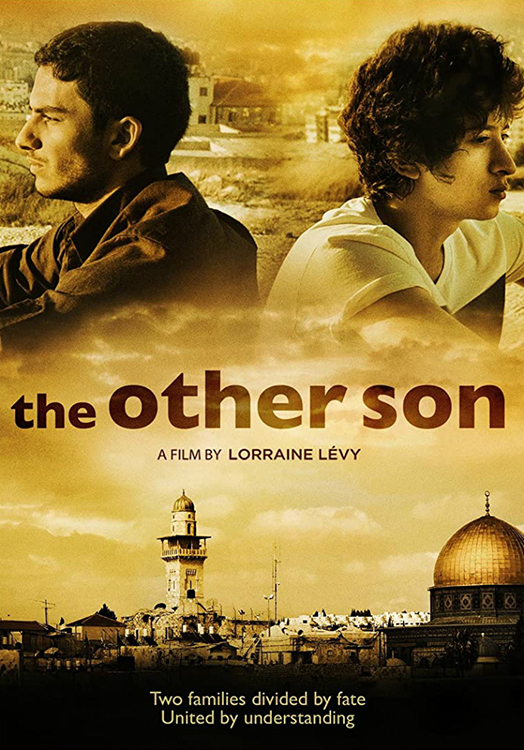 The Other Son
Directed by Lorraine Lévy
Year: 2012
Country: France
Language: French, English, Arabic, Hebrew
THE OTHER SON is the moving and provocative tale –filmed in Israel and the West Bank -of two young men -one Israeli, the other Palestinian, who discover they were accidentally switched at birth, and the complex repercussions on themselves and their respective families.

Joseph (Jules Sitruk), an 18-year-old musician preparing to join the Israeli army for his mandatory military service, lives at home in a comfortable suburb of Tel Aviv with his parents, France-born physician Orith (Emmanuelle Devos) and Israel-born army commander Alon Silbers (Pascal Elbé). A blood test for Joseph's military service reveals that he is not their biological son; during the Gulf War Joseph was evacuated from a clinic along with another baby; both were given back to the wrong families. While the Palestinian Joseph went to Tel Aviv with the Silbers, their actual Jewish son, Yacine (Medhi Dehbi) was brought to the West Bank by the Arab couple, Said (Khalifa Natour) and Leila (Areen Omari). The revelation turns the lives of the two families upside-down, forcing them to reassess their respective identities, values and beliefs.

THE OTHER SON features a terrific multinational cast hailing from France, Palestine and Israel. Emmanuelle Devos plays the loving yet tormented French-Israeli mother. Ms. Devos, a veteran of over 60 films, has starred in the films of Jacques Audiard (The Beat that My Heart Skipped, Read My Lips,) Arnaud Desplechin (My Sex Life, Kings and Queens, A Christmas Tale), Anne Fontaine (Coco Before Chanel,) and Alain Resnais (Wild Grass). Rising star Pascal Elbé was nominated for a César for Most Promising Actor for his performance in Michel Boujenah's Father and Sons. He directed Tete de Turcwith Roschdy Zem and Ronit Elkabetz for which he received a César nomination for Best First Film.
"Extraordinary." - Roger Ebert
---
"[T]he film's ultimate message is heard loud and clear: Bloodlines run thicker than political boundaries, and decades of conflict cannot quell a mother's love for her son, or a young man's taste for freedom."-- The Hollywood Reporter
---
"A switched-at-birth tale, The Other Son raises the stakes on what is already an emotionally charged situation."-- Huffington Post
---
Cast
Emmanuelle Devos
Jules Sitruk
Pascal Elbé
Crew
Directed by Lorraine Lévy