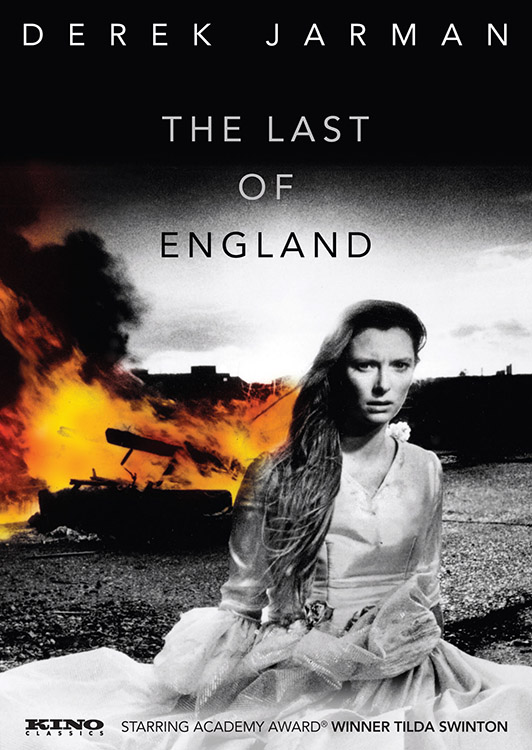 The Last of England
Directed by Derek Jarman
Year: 1987
Country: U.K.
Optional English Subtitles
An apocalyptic roar of a movie, Derek Jarman's (Sebastiane) dizzying THE LAST OF ENGLAND is a lament for the country he once knew and what he feared it would become.

One of Jarman's most experimental and overwhelming works, he has Oscar®winner Tilda Swinton (Michael Clayton) stalk through the remnants of industrial England, encountering visions of fascistic slaughter and sacrifice. These nightmares are cut together with his family's idyllic home movies, a link with the past soon to be severed, all overlaid with bleak quotations from poets like T.S. Eliot and Allen Ginsberg, read in the stentorian tones of Nigel Terry (Excalibur).

A kaleidoscopic view of his country's culture and history, filled with rage at Margaret Thatcher's conservative reign and haunted by the continuing scourge of AIDS (with which Jarman was diagnosed), the movie is both deeply personal and grimly historical, and is undoubtedly one of the most important British films of all time.
"Wrenchingly beautiful... one of the few commanding works of personal cinema in the late '80s." - Katherine Dieckmann, The Village Voice
---
Cast
Spencer Leigh
Tilda Swinton
Nigel Terry
Spring
Crew
Composed by Diamanda Galas, Barry Adamson, Andy Gill, Mayo Thompson and Simon Turner
Produced by Don Boyd and James MacKay
Directed by Derek Jarman