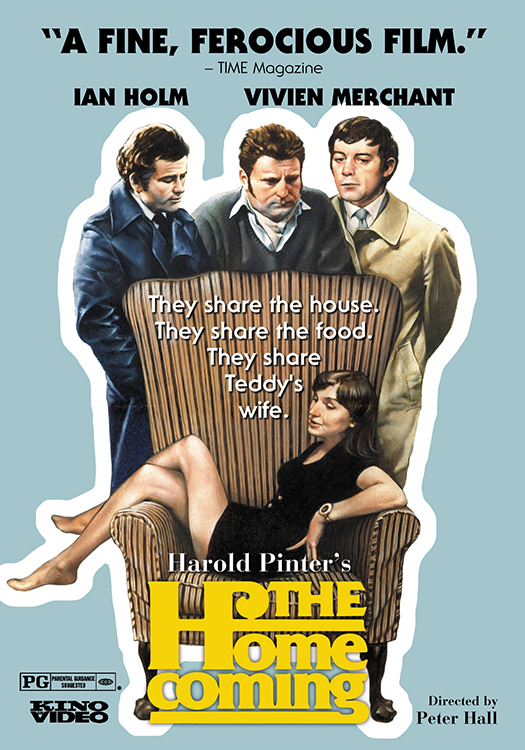 The Homecoming - New HD Transfer
Directed by Peter Hall
Year: 1973
Country: U.S.
Language: English
English Closed Captions
In North London, an all-male beehive of inactivity is ruled with a foul mouth and an iron hand by the abusive Max (Paul Rogers) and his brother, the priggish palace eunuch Sam (Cyril Cusack). Rounding out the precision vulgarity of The Homecoming's "situation tragedy" are the sons, punch-drunk demolition man Joey (Terence Rigby) and the magnificent Ian Holm (Lord of the Rings, The Sweet Hereafter) as pimp-smart Lenny. When, under cover of darkness, the prodigal son Teddy (Michael Jayston) brings his wife Ruth (Vivien Merchant) home to meet his family for the first time, he gets far more and less than he bargained for. To Teddy's rueful discomfort, Ruth's Mona Lisa smile forms the gateway to a labyrinth of Freudian dread, venal family values, and naked neediness that could only come from the mind of Harold Pinter.

Director Sir Peter hall re-renders his original Royal Shakespeare Company London stage triumph as a bleached, claustrophobic delirium that exploits the jagged tempos and seductive tensions of Pinter's best play as no theater staging could. The New York Times declared the American Film Theatre's production of The Homecoming, "a movie of astonishing dynamism." Indeed, director Atom Agoyan (The Sweet Hereafter) went so far as to say, "I often find myself seeking solace from this film. Its poetry and twisted sense of compassion and humor have assuaged many moments of despair and confusion. Other people have religion, I have my copy of The Homecoming."
"The Homecoming almost cried out to be filmed and the AFT has come through." - Roger Ebert, The Chicago Sun-Times
---
Cast
Vivien Merchant
Cyril Cusack
Ian Holm
Terence Rigby
Crew
Writer Harold Pinter
Produced by Ely Landau
Directed by Peter Hall