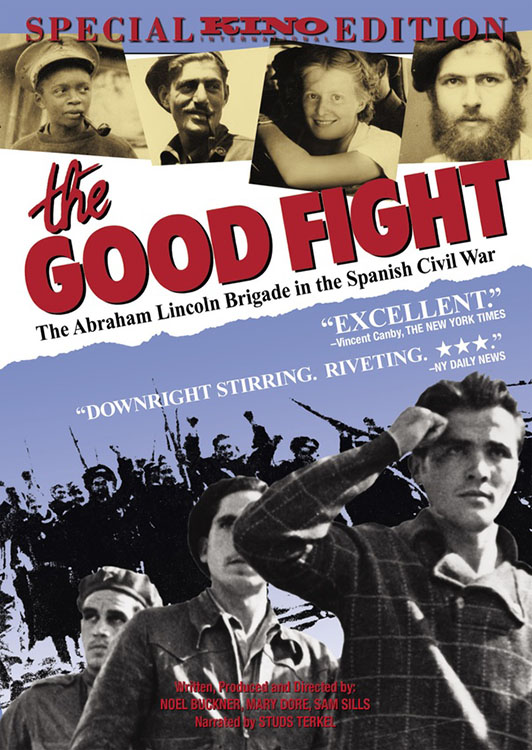 The Good Fight
Directed by Noel Buckner, Mary Dore, and Sam Sills
Year: 1984
Country: U.S.
Optional English Subtitles
The fight for the freedom of Loyalist Spain during the 1936-39 civil war pitted an International Brigade of 35,000 civilian soldiers from more than 50 nations against the well-equipped insurgents of Generalissimo Francisco Franco. Aid to Franco came via Italian fighter planes from Mussolini and from the Nazi Condor Legion of Junker bombers sent by Hitler, who wanted to try out his new weaponry in anticipation of the larger war to come.

Spurred by their government's failure to aid Spanish democracy, 2,800 American volunteers fought with distinction in the Abraham Lincoln Brigade within the international volunteer army. Lincoln veterans (over 750 were killed in Spain) returned home after the Loyalist defeat to encounter suspicion as "premature anti-fascists." Branded Communist sympathizers, blacklisted for years and unable to get work, many paid dearly for their good fight.

Narrated by Studs Terkel, THE GOOD FIGHT explores a significant gap in our history through its use of newsreels, photographs, interviews with Lincoln veterans and Depression-era music. The eleven surviving veterans of the war who appear in this tough, stirring film share a common pride in their sacrifices of seventy years ago when the rise of world fascism crushed the spirit of democracy in a tragic rehearsal for World War II.


"Excellent." -Vincent Canby, The New York Times
"Downright Stirring. Riveting. ***" -NY Daily News
"The Good Fight makes history dance. This unusual documentary is a reminder that brave people are the conscience of any generation." - THE BOSTON GLOBE (editorial)
"Just about the most stirring documentary you¹ll ever see..." - TIME OUT
"Passionate and engrossing." - J. Hoberman, THE VILLAGE VOICE
---
Crew
Editor Studs Terkel
Directed by Noel Buckner, Mary Dore and Sam Sills