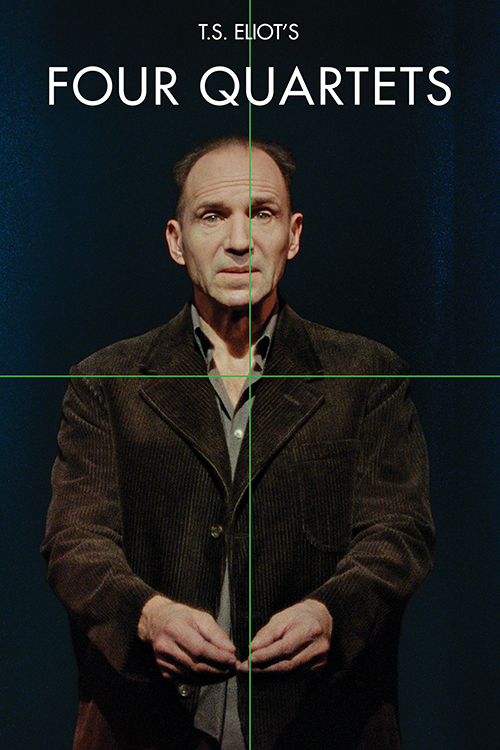 T.S. Eliot's Four Quartets
Directed by Sophie Fiennes
Year: 2023
Country: U.K.
Language: English
English Closed Captions
Ralph Fiennes's exquisite performance of T. S. Eliot's poetic masterpiece is dynamically translated from stage to screen by director Sophie Fiennes (Grace Jones: Bloodlight and Bami, The Pervert's Guide to Ideology). During the early days of COVID, the Oscar® nominee set himself the challenge of committing Four Quartets to memory, and in 2021 he brought it to the London stage followed by a tour of theaters across the UK. Written by Nobel Prize winner Eliot in the shadow of the Second World War, the poem is a searching examination of who – and what – we are. This celebrated meditation on human experience, time, and the divine offers up questions, imagery, and emotions that bear a powerful relevance to our present day.
"Lucid and searching, scorching and incantatory…[Fiennes] recites Eliot's poem as the music it is, and you feel that Eliot, through the drama of Fiennes' presentation, comes across as nothing less than the 20th-century Shakespeare."
---
"The hypnotizing, affecting performance that Fiennes extracts from this thicket of uncertain meanings and recondite references is a beautiful testament to what Eliot himself once said: 'Genuine poetry communicates before it's understood.'"
---
"It is frankly astonishing how contemporary nearly every word sounds despite these poems having been written over 80 years ago. Ralph Fiennes interprets the works as a sort of crescendo-ing reasoning with both life and death"
---
"A staggering experience that is going to be best seen in a darkened room where you can get lost in the words which are amplified and expanded by Fiennes' physical performance...This is a masterclass of acting and a magnificent film. See it"
---
Cast
Ralph Fiennes
Crew
Directed by Sophie Fiennes
Cinematographer Mike Eley