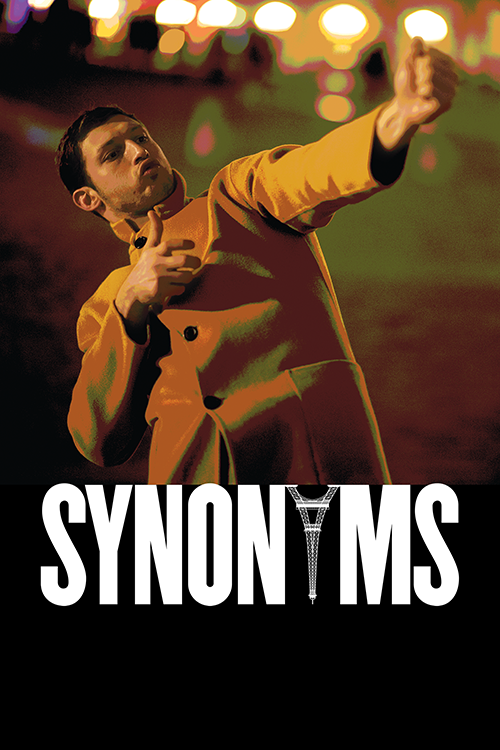 Synonyms
Directed by Nadav Lapid
Year: 2019
Country: France, Israel, Germany
Language: French and Hebrew with English subtitles
Winner of the Golden Bear at Berlinale, the latest from Nadav Lapid (The Kindergarten Teacher) features a dynamic lead performance from newcomer Tom Mercier, whose feral intensity practically bursts out of the frame. Mercier plays Yoav, a disaffected young Israeli who flees Tel Aviv for Paris to start a new life. Desperate to erase his origins, Yoav sees becoming French as his only hope for salvation. Step one is to replace his language. From now on, he will not utter a single word of Hebrew and his dictionary becomes his constant companion. His work at the Israeli embassy is a burden, but studying for his naturalization test also has its pitfalls. And the young French couple he befriends has some rather strange ideas about how to help him. Based on writer-director Nadav Lapid's own experiences, SYNONYMS explores the challenges of putting down roots in a new place. Yoav's attempts to find himself awaken past demons and open up an existential abyss in this tragicomic puzzle that wisely knows how to keep its secrets.
"Critic's Pick! Furious, brilliant. A movie that turns rage into pain and identity into a howl."
---
"Wildly unpredictable. A searing, maddening, explosively brainy movie about the mutability and immutability of the self that, appropriately enough, never stops changing shape."
---
"Astonishing. Fascinating, infuriating, frightening, lyrical and befuddling. Plus deadpan funny and frequently stunning as a bittersweet ode to contemporary France, one that's suffused with New Wave verve."
---
"A gorgeous picture, with an outstanding turn by a newbie actor named Tom Mercier. Synonyms isn't just one of the best Israeli or 'Jewish-themed' movies of the year, it is one of the year's highlights, full stop."
---
"Critics Pick! Astonishing, maddening, brilliant, hilarious, obstinate, and altogether unmissable."
---
"Intense, feverish, unhinged, deranged, digressive, implacable, impressive. A unique and bristling take on the Paris experience."
---
"Deliriously unpredictable... audacious. Breathtaking in the way it careens from one scene to the next in a whirlwind of personal and political meaning. [An] uncategorizable cinematic trip."
---
"A portrait of an ex-pat that conjures the freedom of beginning a new life from the ground up and benefits from having a lead that leans into his role 110%."
---
"[Lapid's] filmmaking is so powerfully charged, so utterly confident, so in command of its resources and outcomes... Mercier projects a feral intensity, a boundless energy that's frightening in its freedom."
---
"Mercier gives an exquisitely intense performance, while Lapid's camera careens, never allowing the audience to get comfortable. It's a poetic saga about nationality rooted in a deep frustration with Lapid's home country."
---
"Bracingly poignant, touching, moving, as well as profound, penetrating, perceptive and astute. Newcomer Tom Mercier is a revelation, awkward and confident in equal measure, bursting the frame with his exuberant mayhem. Synonyms redefines the personal journey of discovery."
---
"As an exercise in depicting the disjointed link between national and personal identity, Synonyms is dazzling. As a portrait of displacement in a world becoming both more globalized and more nationalistic, it is a testament."
---
Cast
Tom Mercier
Quentin Dolmaire
Louise Chevillotte
Crew
Directed by Nadav Lapid