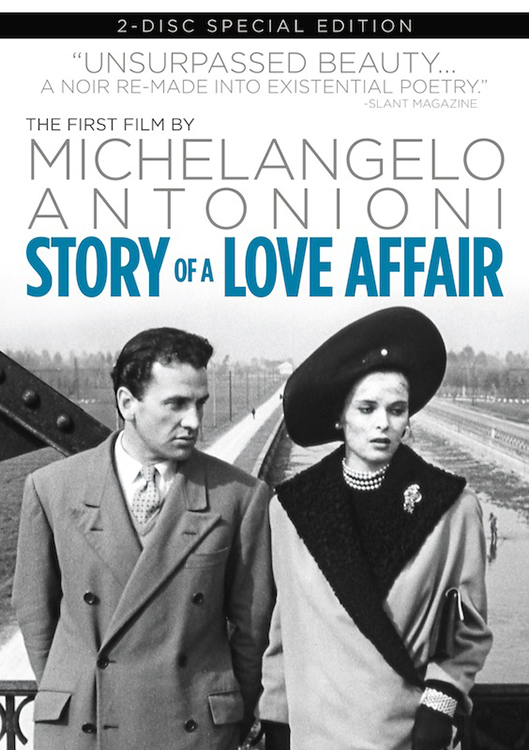 Story of a Love Affair
Directed by Michelangelo Antonioni
Year: 1950
Country: Italy
Language: Italian with English Subtitles
STORY OF A LOVE AFFAIR (1950) is the legendary Michelangelo Antonioni's debut feature, a powerful statement on the delusions and violence sparked by a passionate love. This deeply tragic romance already exhibits the astonishing formal control and penetrating insights into the human condition that would later make him famous in films like Il Grido, L'Avventura and Blow-Up.

A wealthy industrialist becomes curious about his trophy wife Paola's (Lucia Bosé) past, and hires a private investigator. The detective discovers that she had fallen desperately in love with the handsome Guido (Massimo Girotti) as a young girl, and may have participated in a crime to win his hand. After years apart, Paola and Guido reunite to deflect the investigation, and rekindle their attraction in the process. As events spiral out of their control, a murder may blaze their only path to freedom.

One of the great first features in movie history, STORY OF A LOVE AFFAIR effortlessly weaves lust, class and the repercussions of violence into a crime movie melodrama you will not soon forget.
"Unsurpassed beauty...a noir re-made into existential poetry." - Slant Magazine
"Haunting...a remarkable Italian Noir." - Chicago Reader
---
Cast
Marika Rowsky
Gino Rossi
Ferdinando Sarmi
Lucia Bosé
Massimo Girotti
Crew
Executive Produced by Eraldo Da Roma
Cinematographer Enzo Serafin
Writer Michelangelo Antonioni
Composed by Giovanni Fusco
Produced by Stefano Caretta and Franco Villani
Directed by Michelangelo Antonioni