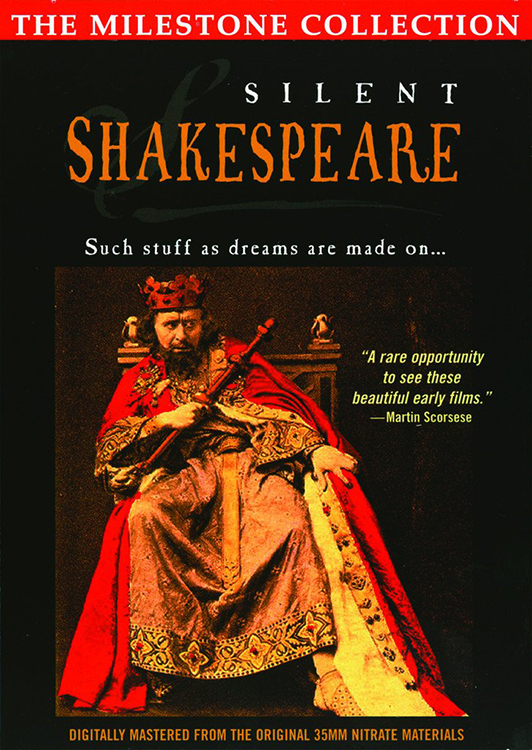 Silent Shakespeare: Such Stuff as Dreams are Made On...
Directed by W. K. L. Dickson, J. Stuart Blackton, Percy Stow, Gerolamo Lo Savio, and Charles Kent
Year: 1899
Country: U.K., Italy
Language: Silent (English intertitles)
Early cinematic pioneers directed these seven charming, emotional silent films based on the plays of William Shakespeare. Considered a "lowbrow" medium at the time, the movie industry sought to elevate its status by immortalizing the Bard's classics and casting the greatest actors of the day. As most of these early photoplays were only one or two reels long, adapting the Bill's work proved both challenging and inspiring. Whatever these films gave up in language and length, they make up for in exuberance, cinematic artistry, and visual wit.

Digitally restored to video by the British Film Institute's National Film and Television Archive, this DVD product features KING JOHN (Britain, 1899, with Sir Herbert Beerbohm Tree), THE TEMPEST (Britain, 1908), A MIDSUMMER NIGHT'S DREAM (USA, 1909), KING LEAR (Italy, 1910, with Francesca Bertini), TWELFTH NIGHT (USA, 1910), THE MERCHANT OF VENICE (Italy 1910, with Francesca Bertini) and RICHARD III (Britain, 1911, with Sir Frank Benson).
Cast
Sir Herbert Beerbohm Tree
Maurice Costello
Julia Swayne Gordon
Francesca Bertini
Florence Turner
Sir Frank Benson
Crew
Directed by W. K. L. Dickson, J. Stuart Blackton, Percy Stow, Gerolamo Lo Savio and Charles Kent