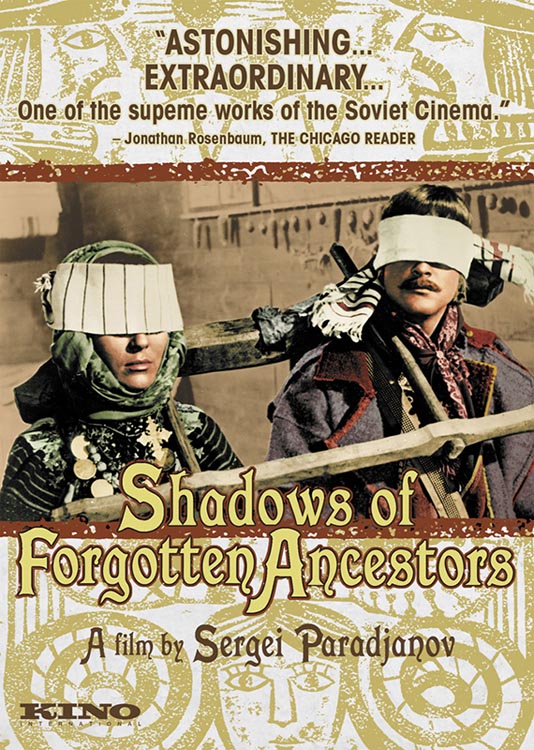 Shadows of Forgotten Ancestors (SD)
Directed by Sergei Paradjanov
Year: 1964
Country: Ukraine, Russia
Language: Ukrainian with English subtitles
SHADOWS OF FORGOTTEN ANCESTORS is a boldly conceived and astonishingly photographed blend of enchanting mythology, hypnotic religious iconography, and pagan magic. And although its unsentimental depiction of the harsh realities of Russian regional history forced visionary director Sergei Pararadjanov (The Color of Pomegranates) into direct conflict with bureaucrats then controlling the Soviet film industry, the film became an international sensation when it was released in 1964.

"There is no devil in church, only among men." Deep in the Carpathian Mountains of 19th-century Ukraine, love, hate, life, and death among the Hutsul people are as they've been since time began. While young Ivan's mother mourns her husband's brutal murder, Ivan is drawn to Marichka, the beautiful young daughter of the man who killed his father. But fate tragically decrees that the two lovers will remain apart. Unhappily married to another woman and cursed by a sorcerer in this life, Ivan's obsession with his lost love lures him ever closer to a reunion with Marichka in death.

Kino is proud to present one of the landmarks of 1960's world cinema in a new transfer that restores SHADOWS OF FORGOTTEN ANCESTORS in all the extravagant color, vivid tragedy, and lucid anthropological detail that stunned audiences when it first premiered.

This film is only available in Standard Definition and has been priced accordingly.

"(PARADJANOV'S) GREATEST WORK...full of visual surprises and fearless leaps in style." - Edward Guthman, SAN FRANCISCO CHRONICLE
---
Crew
Directed by Sergei Paradjanov