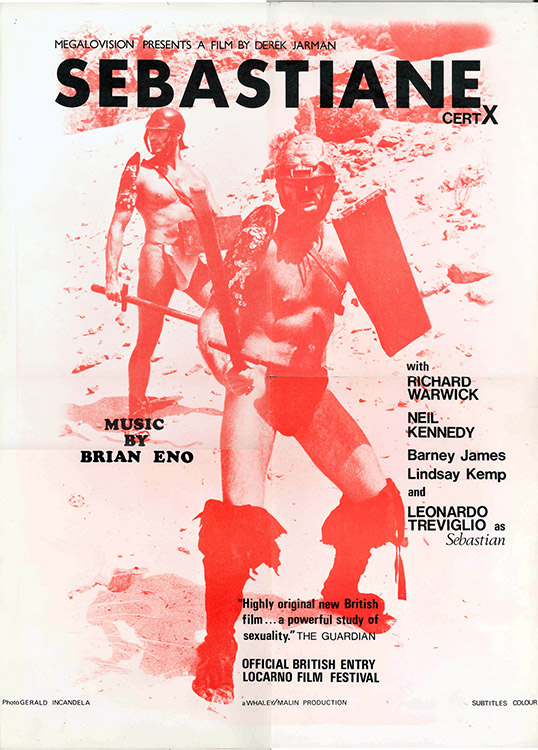 Sebastiane
Directed by Derek Jarman, and Paul Humfress
Year: 1976
Country: U.K.
Language: Latin with optional English subtitles
Derek Jarman's feature film debut (co-directing with Paul Humfress) is a "one of a kind" (Time Out London) historical drama which lays bare the latent homoeroticism that has always lurked beneath the glossy surface of Hollywood biblical epics. Telling the story of the martyrdom of St. Sebastian in the same way that Italian Renaissance painters used the image of Sebastian to eroticize the male nude, Jarman depicts both earthly lust and spiritual yearning with "an honesty and directness that's the absolute opposite of camp." (The Guardian).

Stripped of rank and exiled to a remote Sardinian outpost, Roman soldier and suspected Christian Sebastian becomes the object of his commanding officer aggressive desire. As Sebastian turns his back on his fellow soldiers in favor of his own mystical longings, the sun-bleached Mediterranean idyll becomes a psycho-sexual hothouse where lust sets the stage for a shocking tableau of death and martyrdom. Audaciously spoken in Latin and supported by one of cult composer Brian Eno's best music scores, SEBASTIANE is both a milestone of British independent film and a pioneering work of queer cinema.
"Visually stunning." - David Robinson, The London Times
"An exceptionally promising first feature...striking and original." - Derek Malcom, The Guardian
"A robustly made bit of cinema." - Alexander Walker, The London Evening Standard
---
Cast
Sebastian
Leonard Treviglio
Maximus
Barney James
Richard Warwick
Neil Kennedy
Crew
Executive Produced by Paul Humfress
Cinematographer Peter Middleton
Writers Derek Jarman and James Whaley
Composed by Brian Eno
Produced by Howard Malin and James Whaley
Directed by Derek Jarman and Paul Humfress