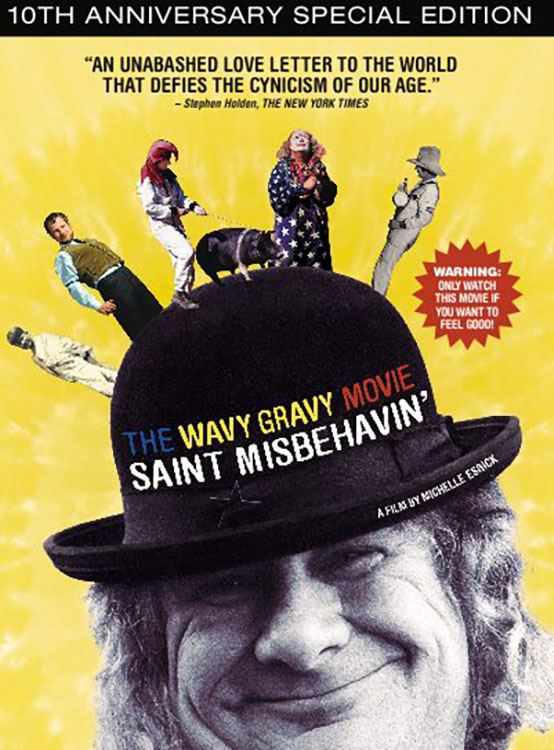 Saint Misbehavin': The Wavy Gravy Movie
Directed by Michelle Esrick
Year: 2009
Country: U.S.
Language: English
THE WAVY GRAVY MOVIE: SAINT MISBEHAVIN' takes us on an unforgettable trip through the extraordinary life of beatnik poet, clown, activist and former Ben & Jerry's Ice Cream flavor Wavy Gravy.

Through candid interviews with Wavy's family and friends, including Jackson Browne, Odetta and Bonnie Raitt, and close encounters with Wavy himself, SAINT MISBEHAVIN' paints a moving and surprising portrait of his lifelong commitment to peace, justice and compassion. This riveting film shows how we can all make a difference--and have fun doing it! Exploring the man behind the countercultural icon, THE WAVY GRAVY MOVIE showcases the humanity and intelligence of this Holy Fool and his devotion to basic human needs.

From keeping the peace at Woodstock to his present-day mission providing for sight-saving operations in developing countries and co-directing Camp Winnarainbow, this entertaining and captivating documentary reveals the deep determination of a truly one-of-a-kind individual. A testament to the sheer joy of living a life of service to humankind and our planet, THE WAVY GRAVY MOVIE: SAINT MISBEHAVIN' will enrich and inspire. Wavy's message is timeless, and needed now more than ever before!
"PERFECTLY EXECUTED AND HUGELY ENTERTAINING."
---
"THIS DOCUMENTARY CAPTURES HIS PLAYFUL SPIRIT AND REAFFIRMS THE ENERGY THAT DRIVES HIS SOUL."
---
"WAVY GRAVY WILL MAKE AS BIG A FOOL AS IS NECESSARY TO MAKE A WISER MAN OF YOU. HE IS ONE OF THE BETTER PEOPLE ON EARTH."
---
Cast
Wavy Gravy
Crew
Directed by Michelle Esrick