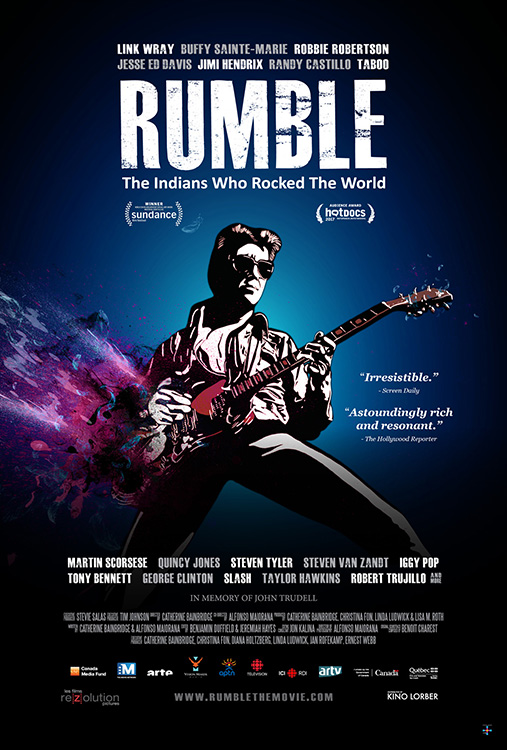 Rumble: The Indians Who Rocked the World
Directed by Catherine Bainbridge, and Alfonso Maiorana
Year: 2017
Country: Canada
Language: English
English Closed Captions
This revelatory documentary brings to light the profound and overlooked influence of Indigenous people on popular music in North America. Focusing on music icons like Link Wray, Jimi Hendrix, Buffy Sainte-Marie, Taboo (The Black Eyed Peas), Charley Patton, Mildred Bailey, Jesse Ed Davis, Robbie Robertson, and Randy Castillo, RUMBLE: The Indians Who Rocked the World shows how these pioneering Native American musicians helped shape the soundtracks of our lives.

The idea for RUMBLE came about when guitarist Stevie Salas, an Apache Indian and one of the film's Executive Producers, realized that no one outside of the music business knew about the profound contribution of these Native musicians. Renewed attention to this missing chapter in the history of American music led to the publishing of Brian Wright-McLeod's The Encyclopedia of Native Music, an exhibit at the Smithsonian National Museum of the American Indian, and eventually this documentary.

Winner of a Special Jury Award for Masterful Storytelling at the 2017 Sundance Film Festival and the Audience Award and Best Canadian Documentary at Hot Docs, RUMBLE features interviews with musicians, historians, and experts including: Buddy Guy, Steven Van Zandt, Tony Bennett, Taj Mahal, Martin Scorsese, Stevie Salas, Quincy Jones, John Trudell, Steven Tyler, Alvin Youngblood Hart, Monk Boudreaux, George Clinton, Jackson Browne, Joy Harjo, Iggy Pop, Wayne Kramer (MC5), Marky Ramone (The Ramones), Pura Fe Crescioni (Ulali), Robert Trujillo (Metallica), Slash (Guns 'N' Roses), Rhiannon Giddens (Carolina Chocolate Drops), Pat Vegas (Redbone), Dan Auerbach (The Black Keys), and Taylor Hawkins (The Foo Fighters).
"Revelatory in almost every sense. Astoundingly rich and resonant."
---
"Eye-opening. Irresistible for popular music lovers."
---
Crew
Directed by Catherine Bainbridge and Alfonso Maiorana (Co-Director)
Produced by Stevie Salas (Executive Producer) , Tim Johnson (Executive Producer) , Christina Fon (Executive Producer) , Catherine Bainbridge (Executive Producer) , Ernest Webb (Executive Producer) , Jan Rofekamp (Executive Producer) , Linda Ludwick (Executive Producer) , Diana Holtzberg (Executive Producer) and Lisa M. Roth