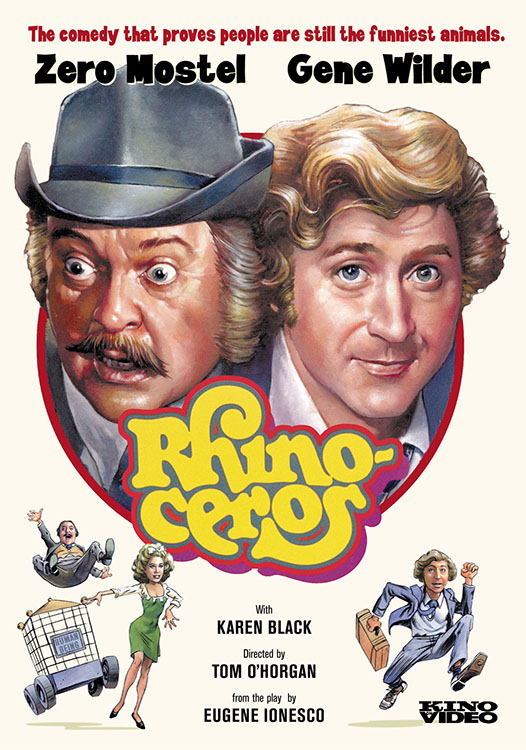 Rhinoceros
Directed by Tom O'Horgan
Year: 1973
Country: U.S.
Language: English
English Closed Captions
Reunited for the only time after their triumph in Mel Brooks' The Producers, Gene Wilder and Zero Mostel catapult their shared genius for elegant slapstick, manic wit, and sly satire to a level of fearless absurdity that virtually no other comedy team would dare approach. Director Tom O'Horgan, originator of the Broadway smash hit Hair, transforms playwright Eugene Ionesco's "Theater of the Absurd" curio RHINOCEROS into a fluid, character-rich screen comedy that The Hollywood Reporter dubbed, "an excellent film."

In the face of a modern urban life devoid of anything but an uninterrupted parade of dehumanizing compromise and disappointment, Stanley (Wilder) tenuously guards his fragile individuality in between gulps of booze. The only solace he enjoys is commiseration with his self-consciously sophisticated neighbor John (Mostel), and his unspoken adoration of a warmly sympathetic co-worker Daisy (70s cult object Karen Black). But as a surreal comic apocalypse begins to transform, one by one, everyone into a rhinoceros, the non-conformism that seemed like Stanley's downfall may be his only salvation.

Re-creating the role he originated on stage, Mostel delivers the most jaw-droppingly bravura performance of his career, playing off both Wilder's and his own incredulous terror as the fussy, prissy John metamorphoses (entirely without make-up or camera tricks) into a bellowing rhinoceros. Mostel, Wilder, and Black's generous characterizations and pitch-perfect comic timing streamline RHINOCEROS's convulsive outrageousness into an ardent valentine to both knockabout screen comedy and Ionesco's experimental and timely satire.
"Rhinoceros is a fast paced, inventively realized film. Wilder and Mostel portray true feeling for each other better than any comedy team I've ever seen." - David Rosenbaum, The Boston Phoenix
---
Cast
Karen Black
Zero Mostel
Gene Wilder
Crew
Writer Eugene Ionesco
Produced by Ely Landau
Directed by Tom O'Horgan