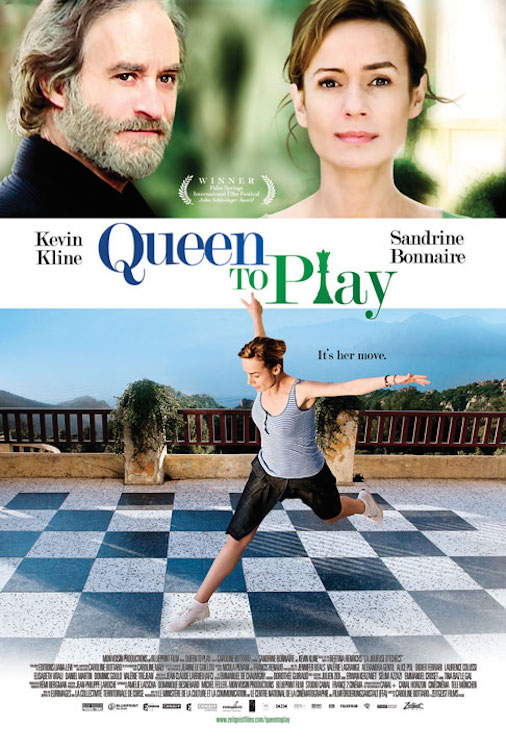 Queen to Play
Directed by Caroline Bottaro
Oscar winner Kevin Kline (A Fish Called Wanda) and the luminous Sandrine Bonnaire (Vagabond, La Cérémonie) square off in this stylish and sophisticated dramedy of newfound passions and mid-life triumphs, set on the postcard-perfect isle of Corsica. Lovely, repressed and quietly intelligent, French chambermaid Hélène (Bonnaire) comes upon a couple (The L Word's Jennifer Beals and Marie Antoinette's Dominic Gould) engaging in an intense chess match, and discovers she has a knack for the game. This obsession—much to the chagrin of her husband and teenaged daughter—leads her to seek the clandestine tutelage of a reclusive American doctor (Kline, in his first French-speaking role)—a liaison that radically transforms both of their lackluster lives. Based on Bertina Henrichs' acclaimed novel La Joueuse d'echec (The Chess Player), Queen to Play is the auspicious feature film debut of French director and screenwriter Caroline Bottaro.
INTELLIGENT, HEARTFELT AND DEEPLY SATISFYING!
You may go into Queen to Play looking forward to seeing Kevin Kline acting in French, but when you come out you will have Sandrine Bonnaire on your mind.... Though Kline handles his role expertly, Queen to Play succeeds as well as it does because of Bonnaire. An actress of exceptional presence with a magical smile and the ability to look both beautiful and ordinary, Bonnaire runs through a wide range of emotions and makes us believe them all. Her face is the film's go-to image, and we never tire of it.
---
Sandrine Bonnaire…is as luminous as the film's Corsican setting.
---
Here is a film with gorgeous scenery, a delicate story and wonderful acting. If you're fatigued by superheroes, wizards and potty-mouth comedies, this is a summer break. Leave your passport at home but be transported to Corsica quicker than you can say 'checkmate.'.....Bonnaire, Kline, Corsica and all of Queen to Play ... c'est magnifique.
---
A late-blooming obsession with chess leads a middle-aged hotel maid to reinvent herself in Queen to Play, scribe Caroline Bottaro's directorial debut. The character's trajectory might have tilted toward whimsy with a less assured interpretation than Sandrine Bonnaire's, but the thesp's slow transformation—from hard-working wife and mother to fey creature of complex strategies and secret smiles—proves riveting.... Like The Maid, Queen posits a radically different approach to class and gender empowerment.... This cerebral chick flick could tickle arthouse fancies.
---
A beautifully crafted film that hinges upon an ongoing series of chess-life metaphors.
---
CRITIC'S PICK! CAPTIVATING!
Caroline Bottaro's tangy comic bonbon, Queen to Play, plucks the game of chess out of the metaphorical realm of spy thrillers and reimagines it as a fable about relationships and upward mobility.
---
A feminist tale that's part Pygmalion and part '70s women's film.... Hélène's evolution is gingerly balanced by a class critique that's sympathetic to both prole women and men. The supporting cast is uniformly fine, but the film rests on the delicate shoulders of Bonnaire, who carries it with a soulful, magnetic presence.
---
Quiet but affecting, a film that uses a well-worn metaphor to find new and profound feelings. It's the kind of film you'll need to seek out - but which rewards that effort.
---
Bonnaire...is comfortingly delightful.... Kline...is the perfect partner.... Their scenes are little treasures.
---
Bonnaire delivers a beautifully modulated turn.... Kline, in his first entirely French-speaking role, intriguingly underplays as the mysterious Kroger.
---
A singular and bountiful French film about one woman's passion and the ways it transforms her life and the lives of those around her.... In her directorial debut, Caroline Bottaro has fashioned an immensely appealing drama about a maid whose life is totally changed once she discovers her passion for chess.
---
An impressive debut—a tense and absorbing film that will captivate even those who, like me, know nothing about chess.
---
There are no losers when Bonnaire and Kline lock horns!
---
Bonnaire is going places and taking her audience with her. Don't miss this beautiful French film and [Bonnaire's] wonderful performance.
---
Cast
Kevin Kline
Sandrine Bonnaire
Jennifer Beals
Crew
Directed by Caroline Bottaro