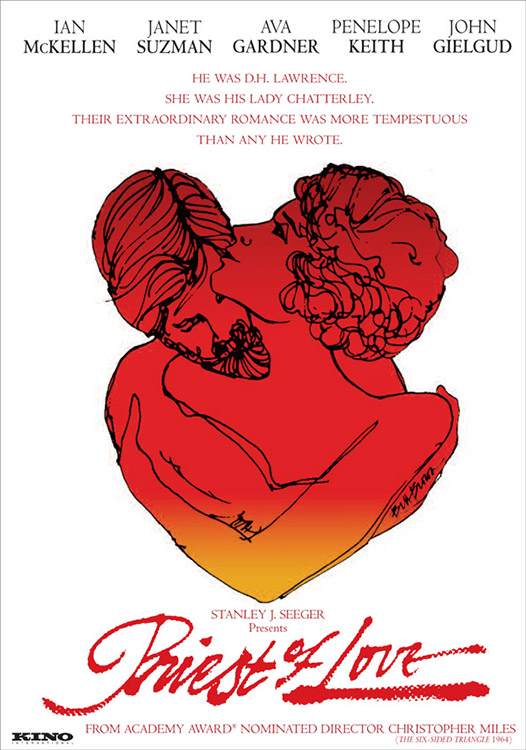 Priest of Love
Directed by Christopher Miles
In his first starring role, Sir Ian McKellen (Lord of the Rings, Gods and Monsters) gives a sensational performance as D.H. Lawrence in the "impressively mounted and acted biopic"(Variety) PRIEST OF LOVE.

Working alongside Hollywood legend Ava Gardner (Pandora and the Flying Dutchman) and director Christopher Miles, McKellen shows Lawrence in all his rebellious grandeur, thumbing his nose at authority while still managing to write masterpieces. The film begins with the English government burning copies of The Rainbow, and continues through his exodus around the world, joined by his combative wife Frieda (Janet Suzman). From his destructive sojourn to the American Southwest, to an earth-shaking visit to Oaxaca, and finishing with his erotic adventures in Italy, PRIEST OF LOVE provides a colorful and insightful portrait of Lawrence's life and art.

He had one last great shock left in him, though, and the film closes with the publication of Lady Chatterley's Lover, and the uproar that greeted its sexually explicit prose — Lawrence's last great statement of rebellion before he succumbed to tuberculosis in 1930. PRIEST OF LOVE provides a beautifully shot portrait of one of the great artists of the 20th century.


"ENTHRALLING." — Bruce Williamson, PLAYBOY
"An unprecedented Delight." — Gary Arnold, THE WASHINGTON POST
"McKellen gives a bravura performance." — VARIETY
"DISTINGUISHED, PERCEPTIVE AND FASCINATING." — Rex Reed, GQ
---
Cast
John Gielgud
Ava Gardner
Janet Suzman
Ian McKellen
Crew
Directed by Christopher Miles