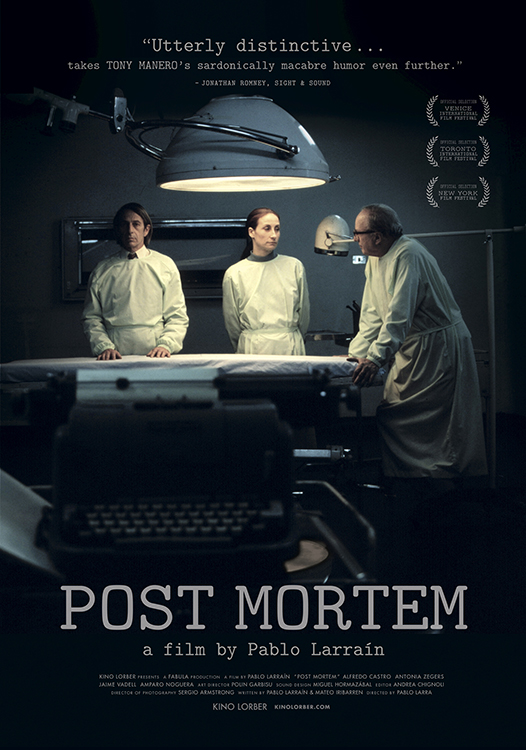 Post Mortem
Directed by Pablo Larrain
Year: 2012
Country: Chile, Germany, Mexico
Language: Spanish with optional English subtitles
The second part of director Pablo Larrain's celebrated trilogy about Chile during the dictatorial reign of Augusto Pinochet, POST MORTEM is a "grim, intense, mordantly comic little film" (A.O. Scott, New York Times) about a civil servant transformed by the 1973 military coup.

Mario (Alfredo Castro, Tony Manero) is an unassuming state employee who transcribes notes during autopsies. Furtive and lonely, he becomes obsessed with his neighbor, the dancehall girl Nancy (Antonia Zegers), who is involved with a group of left-wing activists. With the coup, and the death of President Salvador Allende, Nancy's friends are hunted down, and Mario's hospital becomes clogged with the bodies of dissenters. Soon the violence filters into Mario's psyche, and he begins to break down, much like his country.

Following the brilliant Tony Manero (2008, available from Kino Lorber), and preceding the recently completed No (2012), Post Mortem is "a new and original vision of political terror" (J. Hoberman, Blouin Art Info) that remains urgently relevant to the repressive regimes of today.
"Utterly distinctive... takes TONY MANERO's sardonically macabre humor even further." — SIGHT & SOUND
"Begins as a deadpan comedy and ends as a harrowing tragedy." — Manohla Dargis, The New York Times
"Larrain's breathtaking visual command makes for enthralling viewing." — Jay Weissberg, Variety
---
Cast
Marcelo Alonso
Jaime Vadell
Antonia Zegers
Amparo Noguera
Alfredo Castro
Crew
Executive Produced by Max Monteillet
Cinematographer Sergio Armstrong
Art Director Polin Garbisu
Writer Pablo Larrain
Produced by Juan de Dios Larrain
Directed by Pablo Larrain