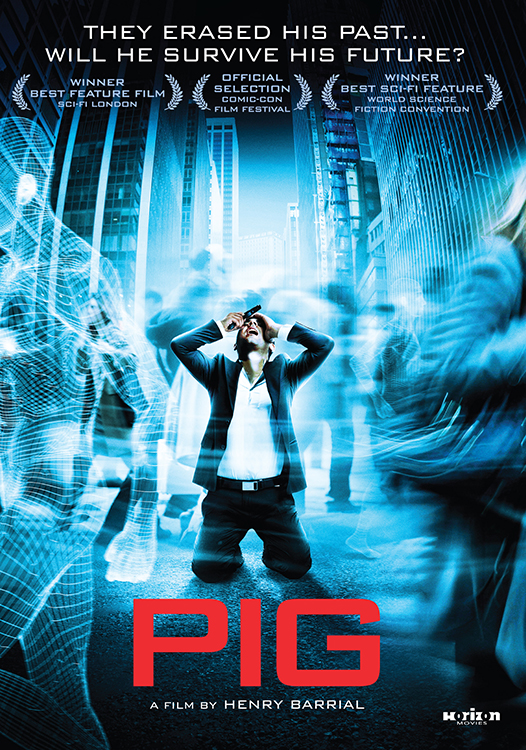 Pig
Directed by Henry Barrial
Year: 2014
Country: U.S.
Language: English
PIG is a mind-bending sci-fi thriller in the tradition of Mement, "a riveting adventure of confusion and Identity" (Cleveland Plain Dealer).

A man (Rudolf Martin, NCIS) wakes up alone in the middle of the desert with a black hood on his head and his hands tied behind his back. He has no idea who he is or how he got there. The only clue to his identity- -a piece of paper in his pocket with the name "Manny Elder" written on it--sends him to Los Angeles where things are not what they seem and clues lead to something bigger and more unusual than he could have ever imagined.

A wildly entertaining shocker that has won festival awards around the world - PIG is a classic in the making.
"A brilliant sci-fi thriller...that catches you by surprise and lingers in the mind long after the final fade out. The most provocative film I saw at the Palm Springs International Film Festival."
- Robin E Simmons, DESERT STAR WEEKLY

"A riveting adventure of confusion and identity. Barrial has crafted a first-rate mystery-thriller with sci-fi elements [providing] twists-a-plenty""
- Clint O'Connor, CLEVELAND PLAIN DEALER

"A great indie flick. It's part drama, science fiction, and thriller all tightly wrapped into one captivating mystery. Pig is an impeccably crafted indie gem that genre fans need to see. Highly recommended.""
- Craig Hamann, CULTCUTS MAGAZINE

"A splendidly crafted...conceptually ambitious thriller.""
- GATEWAY CINEFILES

"A great psychological thriller with a surprising end [that] is completely unexpected and very clever. An emotional, turn-twisting story.""
- Kay Shackleton, EXAMINER

"Looking for the next Memento, Seconds, or Primer? The next twisty brain teaser flick to get excited for is Pig.""
- I09.COM
---
Cast
Keith Diamond
Heather Ankeny
Rudolf Martin
Crew
Directed by Henry Barrial