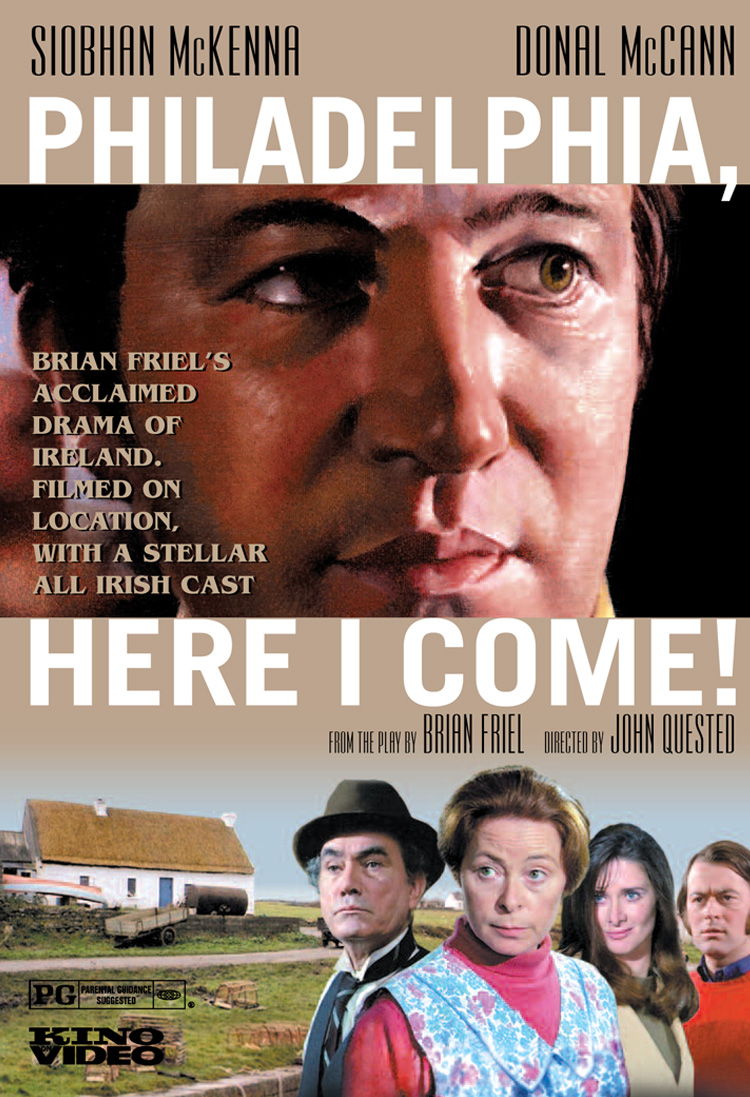 Philadelphia, Here I Come!
Directed by John Quested
Year: 1975
Country: U.S.
Language: English
Set in playwright Brian Friel's (Dancing at Lughnasa, Faith Healer) mythical Ballybeg, Ireland, The American Film Theatre's PHILADELPHIA, HERE I COME! presents an ingenious glimpse into the stock-taking of young Gareth "Gar" O'Donnell on the eve of his emigration to America. Through the myriad preparations and good-byes that fill Gar's last day in Ireland, comes a powerful portrait of the public boasts and private doubts that bedevil him on the threshold of his journey to a new life in a new land.

Friel contrasts Gar's cloistered emotional life with his gregarious social persona by portraying him as two distinct characters, a public self (Donal McCann) and a private self (Des Cave). As public Gar energetically goes about his rounds, private Gar voices the anger, and sadness, "the loneliness, the groping," that has positioned him between a loveless youth and an unknown future. As the two sides of Gar spar over their shared past and we meet the people that have inclined him towards a two-faced life, the difference between emigration and exile begins to blur.

Gar's surrogate mother Madge (Siobhan McKenna, Doctor Zhivago), his speechless, affectionless father (Eamon Kelly), and most importantly Gar's ex-fiance Kate (Fidelma Murphy) all provide inadvertent testimony to the fear and longing that have already separated Gar from his community, his family, his heart, and ultimately from himself. AFT's PHILADELPHIA, HERE I COME! is a soulful backward glance at a life as yet un-lived and a heart as yet un-loved on the threshold of escape to, "a vast restless place that doesn't give a damn about the past."
Cast
Siobhan McKenna
Donal McCann
Crew
Directed by John Quested