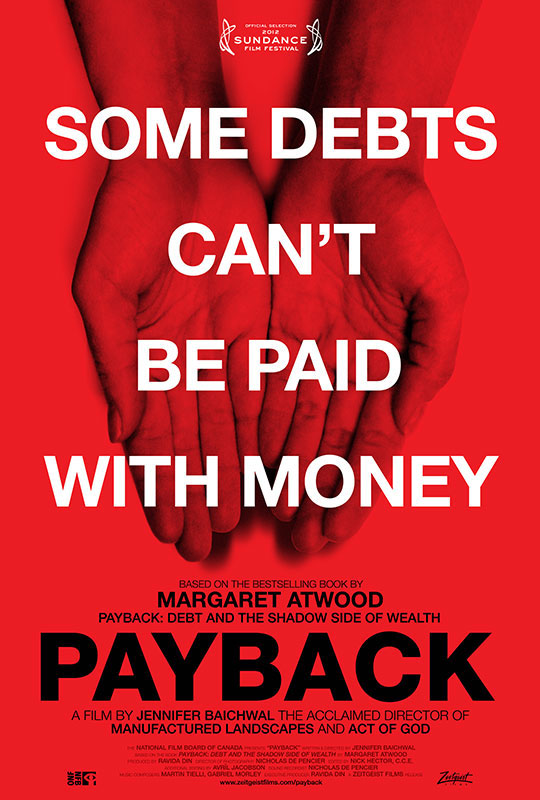 Payback
Directed by Jennifer Baichwal
Margaret Atwood's visionary work Payback: Debt and the Shadow Side of Wealth is the basis for this riveting and poetic documentary on "debt" in its various forms—societal, personal, environmental, spiritual, criminal, and of course, economic. Filmmaker Jennifer Baichwal (Manufactured Landscapes) strikingly interweaves these (sometimes surprising) debtor/creditor relationships: two families in a years-long Albanian blood feud; the BP oil spill vs. the Earth; mistreated Florida tomato farm workers and their bosses; imprisoned media mogul Conrad Black and the U.S. justice system. With stunning cinematography and insightful commentary from renowned thinkers Raj Patel, Louise Arbour and Atwood herself, PAYBACK is a brilliant, game-changing rumination on the subject.
Making a film about an idea, rather than a political issue or a specific historical incident, is devilishly difficult, but the ingenious Canadian documentarian Jennifer Baichwal pulls it off in PAYBACK, which explores the concept of debt through many of its juridical, environmental and moral ramifications. It's ultimately haunting, beautiful and strangely optimistic.
---
FIVE STARS. The stories and on camera interviews are interwoven seamlessly. The cinematography is beautiful. The editing is brilliant. PAYBACK is a profound and challenging investigation of the notion of debt and how it impacts all of us.
---
PAYBACK is a rarefied conceptual documentary. By integrating the views of activist-writers from Raj Patel to Eric Schlosser, this poetic, intermittently haunting film ultimately argues for generosity and open-heartedness in the face of greed, exploitation and vengeance. Tech credits are superb.
---
Typical in a Baichwal film the visuals are exquisite – the spilled oil blackening the blue Gulf like a vast bruise; the rows upon rows of tomato vines imprisoning their stooped and sweating pickers. So, in its adopted home on the screen, the discussion acquires a new power in the imagery.
---
Crew
Directed by Jennifer Baichwal