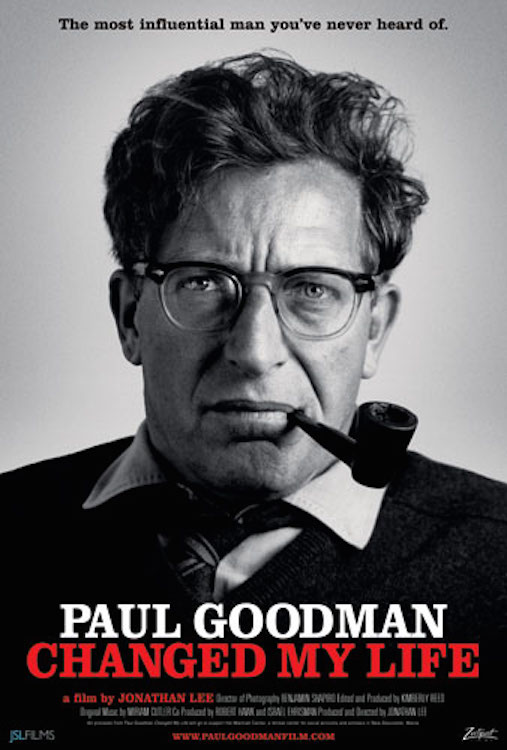 Paul Goodman Changed My Life
Directed by Jonathan Lee
Paul Goodman was once so ubiquitous in the American zeitgeist that he merited a cameo in Woody Allen's Annie Hall. Author of legendary bestseller Growing Up Absurd (1960), Goodman was also a poet, 1940s out queer (and family man), pacifist, visionary, co-founder of Gestalt therapy—and a moral compass for many in the burgeoning counterculture of the '60s.

PAUL GOODMAN CHANGED MY LIFE immerses you in an era of high intellect (that heady, cocktail-glass juncture that Mad Men has so effectively exploited) when New York was peaking culturally and artistically; when ideas, and the people who propounded them, seemed to punch in at a higher weight class than they do now. Using a treasure trove of archival multimedia—selections from Goodman's poetry (read by Garrison Keillor and Edmund White); quotes from Susan Sontag, Martin Luther King, Jr. and Noam Chomsky; plentiful footage of Goodman himself; plus interviews with his family, peers and activists—director/producer Jonathan Lee and producer/editor Kimberly Reed (Prodigal Sons) have woven together a rich portrait of an intellectual heavyweight whose ideas are long overdue for rediscovery.
The time is surely right for a Goodman revival. There are aspects of contemporary life that he anticipated and influenced — the gay rights movement, most notably — and others that are sorely in need of his wisdom.... Mr. Lee's film, in addition to making a persuasive (if partial) case for its subject's importance, also has a great story to tell, of a 20th-century life that was at once exemplary and idiosyncratic.... it has a passionate, almost prophetic sense of the impact that a writer and thinker can have on his times and the future.
---
Three Stars! Paul Goodman Changed My Life is a documentary about a man who changed mine.
---
The Occupy Wall Streeters could pick up a lot from Goodman's articulate demand for solutions.
---
REVELATORY.... Perhaps it's a tribute to the breadth of Goodman's life that even after 90 minutes, it feels as if we've just scratched the surface. B+.
---
A richly detailed account of the volatile personality and incredible mind that fearlessly and aggressively pursued a unique and candid form of truth.
---
The most influential 20th-century thinker you've probably never heard of.... As bluntly humanist and free-ranging as its subject.... There's more of a need for Paul Goodmans than ever.
---
Watching Jonathan Lee's Paul Goodman Changed My Life was like spending an hour and half in the company of an open flame, radiating verbal brilliance.
---
A staunch, outrageously brave (sometimes even embarrassing) queer pioneer.... Marvelous!
---
Jonathan Lee's soulful documentary testifies to the tragic ease with which our own culture dispenses with such unclassifiable figures.
---
Leaves the palette craving more. A delectable film!
---
Lee presents this formidable character as simpatico with today's zeitgeist.... His belief in popular, 'spontaneous uprising'...is gaining currency globally in a movement that would rally to Goodman's declaration that 'most professionals are finks.'
---
[Paul Goodman is] worth connecting or re-connecting with.... it is this cheering idea of him as utopian sexual and societal prophet that Lee's film brings back most seductively.
---
The documentary will reawaken interest in a fascinating, multifaceted figure... Philosopher, poet, sociologist,pacifist, psychologist, writer, anarchist, open bisexual and spokesperson for a generation, Paul Goodman ranked among the most influential thinkers in the latter half of the 20th century.
---
In the end, Paul Goodman Changed My Life is a bittersweet film, freighted with a melancholy not unlike its protagonist's, hoping and working for a better world, but uncertain of a future run by fallible human beings. If Lee seems to be actively urging his audience to bring Goodman's writings and thought back into the forefront of public debate, that's not at all a bad thing. As an old movie ad campaign said the year after Goodman's death, boy do we need it now.
---
Honest and unafraid, Paul Goodman was one of the most penetrating social critics of postwar America. Jonathan Lee's documentary captures the power of the man's presence and ideas. Viewers will likely beat a path directly to the library, hungry for more.
---
Crew
Directed by Jonathan Lee