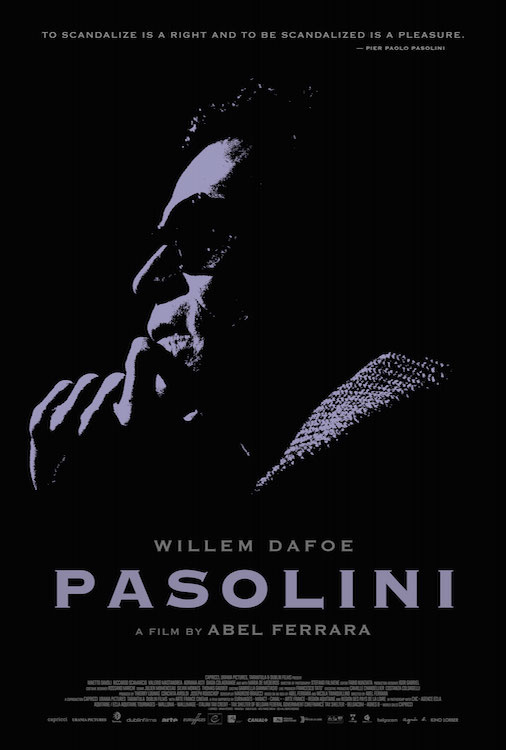 Pasolini
Directed by Abel Ferrara
Year: 2014
Country: France, Belgium, Italy
Language: English, Italian, French
English Closed Captions
The Roman life and the imaginary worlds of Pier Paolo Pasolini intermingle in Abel Ferrara's retelling of the final days in the life of the fifty-year-old filmmaker and writer, in a lovely, haunting film that draws on his last interview and envisages scenes from an unmade final film and his incomplete novel, Petrolio. Willem Dafoe, regally exhausted, is the spitting image of the murdered director, and Pasolini's beloved muse Ninetto Davoli returns to "finish" his friend's work, but Ferrara wisely never attempts to merely ape Pasolini's style, instead offering one iconoclastic artist's tribute to another, a biopic that busts the boundaries of the form and a passion project decades in the imagining that gives Pasolini's final moments on the beach at Ostia the terrible sanctity of the Passion. – Metrograph
"Critic's pick! The splendor of 'Pasolini' lies in its essentially collaborative nature... [Ferrara's] reverence for his subject as a fellow artist and kindred rebel spirit is evident in every frame."
---
"Richly evocative. Anything but a conventional biopic. For Ferrara, the art… is the forensic evidence of an artist's visionary inner life."
---
"It's profane and it's precious and it glows like the moon."
---
"A thought-provoking... cinematic portrait of an artist whose visionary oeuvre remains poorly understood."
---
"An unimpeachably serious homage, with an assured lead performance from Willem Dafoe. I can't think of any director, apart from Ferrara, who has quite the same talent and passion for upsetting the apple cart."
---
"An open-minded rendering of everyday humanity."
---
"Whether dealing in drama or reportage, Ferrara is still a grizzled master of the city nocturne."
---
"Ferrara's reverence for Pasolini is clear in every frame. It's as intriguing, alienating, and open to interpretation as any actual Pasolini movie and that was likely the point... with a wonderful central performance from Willem Dafoe."
---
Cast
Willem Dafoe
Crew
Directed by Abel Ferrara