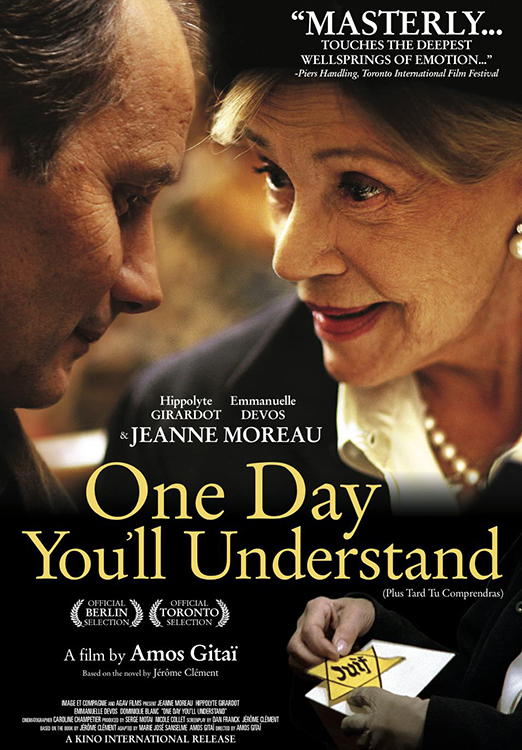 One Day You''ll Understand
Directed by Amos Gitai
Year: 2008
Country: France
Language: French with English subtitles
From acclaimed Israeli director Amos Gitaï (Kadosh, Kippur), ONE DAY YOU'LL UNDERSTAND is a meditation on memory, identity, and the reconciliation that follows a French businessman's growing obsession with the secrets of his family's past. "Suffused with a quiet glow of sympathy and enlightenment" (The New York Times), the film is a "diligently understated exploration of the legacy of anti-Semitism" (Time Out New York).

As the 1987 trial of Nazi war criminal Klaus Barbie unfolds on television, Victor Bastien (Hippolyte Girardot -- Lady Chatterley) reviews old family documents and finds a distressing "Aryan declaration" authored by his late father, a discovery that throws Victor's conception of his family's history into darkness. His mother, Rivka (legendary actress Jeanne Moreau -- Jules and Jim, Eva), keeps a stubborn silence about the past, while Tania (Dominique Blanc), his sister, defends their father's declaration. At the same time, Victor's wife (Emmanuelle Devos -- Kings and Queen) and children grow concerned about his increasing distraction. Burning with the need to unearth the truth, Victor takes his family to the tiny village where Rivka's parents were forced to hide during the war.

Poignant and ultimately optimistic, ONE DAY YOU'LL UNDERSTAND offers a compelling portrait of a family's confrontation with the wounds of the past and their hopes for a better future.


***** "(A) DILIGENTLY UNDERSTATED EXPLORATION OF THE LEGACY OF ANTISMITISM" Mark Holcomb TIMEOUT NEW YORK
---
Cast
Jeanne Moreau
Hippolyte Girardot
Crew
Directed by Amos Gitai