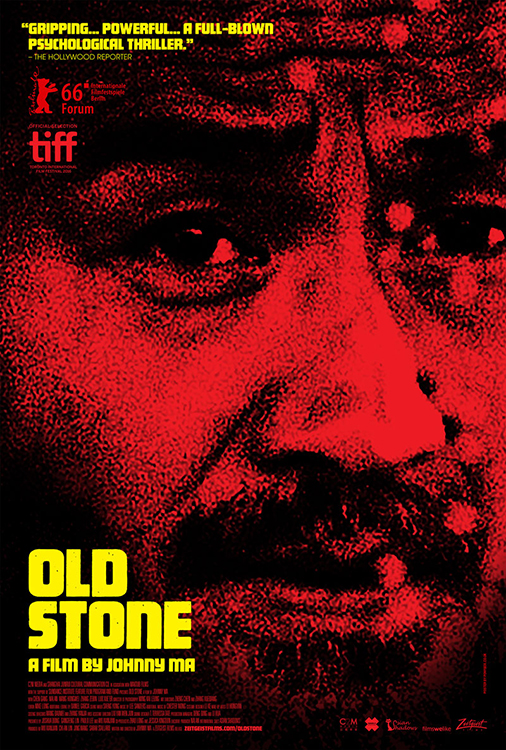 Old Stone
Directed by Johnny Ma
Year: 2016
Country: China, Canada
Language: Mandarin w/English subt.
In Johnny Ma's thrilling debut feature, a Chinese taxi driver finds himself plunged into a Kafkaesque nightmare where no good deed goes unpunished. Beginning as a gritty social-realist drama before u-turning into a blood-drenched noir, OLD STONE follows the repercussions of a car accident in a society where life is cheap and compassion is ruinously expensive.

When a drunken passenger causes Lao Shi to swerve and hit a motorcyclist, the driver stops to help the injured man. When no police or ambulance arrive he drives the victim to the hospital, checks him in and finds himself liable for the man's medical bills. The repercussions of Shi's selfless act expose a society rife with bone-chilling callousness and bureaucratic indifference. On the verge of losing his cab, his job and his family, Lao Shi (in a magnificent performance by Chen Gang) has to resort to desperate measures to survive.

Winner Canadian Academy Award - Best First Feature

In the frenzied, cacophanous urban China of Johnny Ma's STUNNINGLY ASSURED, DARKLY GRIPPING first feature "Old Stone," a car accident doesn't just cause physical damage, it wrecks souls.
---
Gripping....Powerful performances and eerie imagery.... A full-blown psychological thriller, complete with a devastating denouement.
---
Excoriating! A suspense thriller with Dostoevskyan undertones.
---
Old Stone develops into a riveting thriller and asks weighty questions about the cost of doing right in an unempathetic society where people rather kill the accident victims off by running over them again rather than saving them. It's a raw and tough first film. And it signals a emergence of a major storyteller.
---
The filmmaker builds his narrative to a remarkable crescendo that's reminiscent of Martin Scorsese's underrated remake of Cape Fear.
---
An engrossing and unnerving film.
---
A bluntly effective thriller that makes great use of its gritty noir touches.
---
Ma's ambitious feature debut will tie your stomach in knots and make you question everything from moral responsibility to individualism in the new China.
---
One mark of a superior foreign drama is a film that is firmly embedded to its cultural matrix, while also telling a story that is highly relatable.... Director Johnny Ma threads that needle quite capably in his nerve-wracking debut feature, Old Stone.
---
Crew
Directed by Johnny Ma