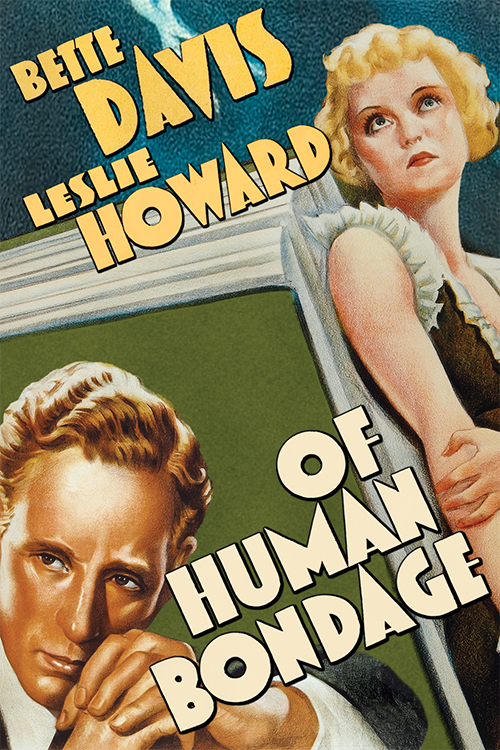 Of Human Bondage
Directed by John Cromwell
Year: 1934
Country: U.S.
Language: English
Bette Davis rose from the ranks of Warner Bros. contract players to become a screen superstar when she was loaned out to RKO to appear in John Cromwell's adaptation of W. Somerset Maugham's Of Human Bondage.

Leslie Howard (Gone With the Wind) stars as Philip, a British medical student who becomes infatuated with a most unlikely woman: a vulgar waitress named Mildred (Davis). Undeterred by Mildred's obvious contempt of him (and her disgust for his disabled foot), Philip lavishes his affection upon the tawdry woman, and allows his personal and professional life to disintegrate as a consequence of her sadistic whims.

Though considered an unlikely choice to play a cockney working girl, Davis fearlessly embraced Mildred's dark side, and delivered an erotic yet malevolent performance that launched her to the forefront of Hollywood's leading ladies. Nominated for Best Actress in a Leading Role (Bette Davis).
"...a true classic. A lot of fun and really vicious at the same time, it's a movie that everyone should see at least once. I'm positive that any kind of audience will find something to enjoy in the film. I wish that the DVD was a little stronger, but it still looks better than it ever has before, making for an easy recommendation."- DVD Verdict
"The film has been rescued from Public Domain purgatory by Kino Classics with a nice disc edition that includes a nifty Maugham bio. Highly Recommended." - DVD Talk
---
Cast
Bette Davis
Leslie Howard
Reginald Denny
Alan Hale
Frances Dee
Crew
Directed by John Cromwell