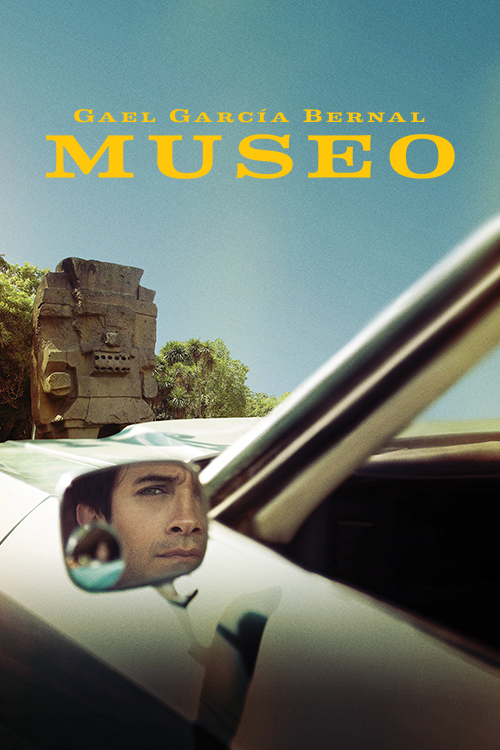 Museo
Directed by Alonso Ruizpalacios
Year: 2018
Country: Mexico, U.S., Canada
Language: Spanish with English subtitles
Well into their 30s, Juan Nuñez (Gael García Bernal) and Benjamín Wilson (Leonardo Ortizgris) still can't seem to finish veterinary school or leave their parents' homes. Instead, they wallow in comfortable limbo in the district of Satelite, Mexico City's version of an American suburb. On a fateful Christmas Eve, however, they decide it's finally time to distinguish themselves by executing the most infamous cultural artifacts heist in all of Mexican history, looting the country's iconic National Anthropology Museum.

Inspired by true events, and shot on never-before filmed locations in Mexico, MUSEO is a sardonic cautionary tale that underscores the old adage: you don't know what you have until you lose it.

Starring Gael Garcia Bernal, Leonardo Ortizgris, Alfredo Castro and Simon Russell Beale, MUSEO is Alonso Ruizpalacios's second feature after the award-winning festival hit GÜEROS.
"Museo is a fun, stylish, singular heist flick that's about so much more than the theft itself."
---
"Ruizpalacios' fictionalized account, even with all its embellishments, has far more honesty in it than any confession could hold."
---
Cast
Gael Garcia Bernal
Simon Russell Beale
Lynn Gilmartin
Lisa Owen
Leonardo Ortizgris
Crew
Directed by Alonso Ruizpalacios