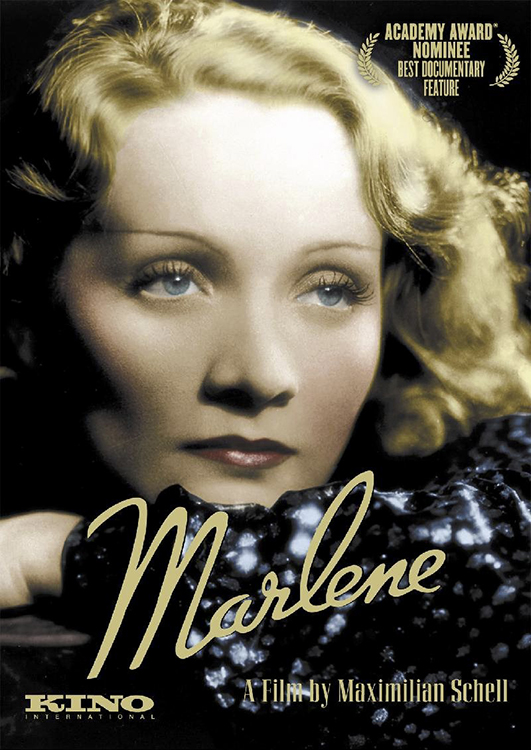 Marlene
Directed by Maximillian Schell
Year: 1984
Country: Germany
Language: German and English with optional English subtitles
An Oscar® nominee for Best Documentary and winner of the 1986 New York Film Critic¹s Circle non-fiction film prize, MARLENE is a "portrait of a remarkably strong-willed woman, stage-managing her career right up to the bitter end" (New York Times) that brilliantly lifts the veil on a movie star of the brightest magnitude as she is fading into twilight.

In September of 1982, Oscar® winning actor and director Maximilian Schell (Julia, The Man in the Glass Booth) arrived in Paris for a series of on-camera interviews with Marlene Dietrich intended for a documentary film on the screen icon¹s life and work. Despite having agreed to participate, the near-recluse Dietrich withdrew permission for her Judgment at Nuremburg co-star to film in her flat. Instead, in over 40 hours of audio-taped interviews, the 81 year-old screen legend provoked a battle royale of conversational mind games leading to unforgettably raw and truthful emotional revelations. Using Dietrich¹s candid, bruising, infuriating, and occasionally touching off-camera musings on childhood, marriage, sex, love, collaborators, co-stars, life, death, and the Holocaust, Schell "sets her words, like a score, to the stunning film images of the young Marlene." (Washington Post).

The hypnotic final result- buoyed by self-reflexive making-of footage, and an impressionistic re-creation of the sunless Paris flat where star and filmmaker fenced, fought, and ultimately connected- is the "Sunset Boulevard of documentaries" (Washington Post).
"Far more lively...than any ordinary film portrait."- Vincent Canby, THE NEW YORK TIMES
---
Cast
Marlene Dietrich
Crew
Directed by Maximillian Schell