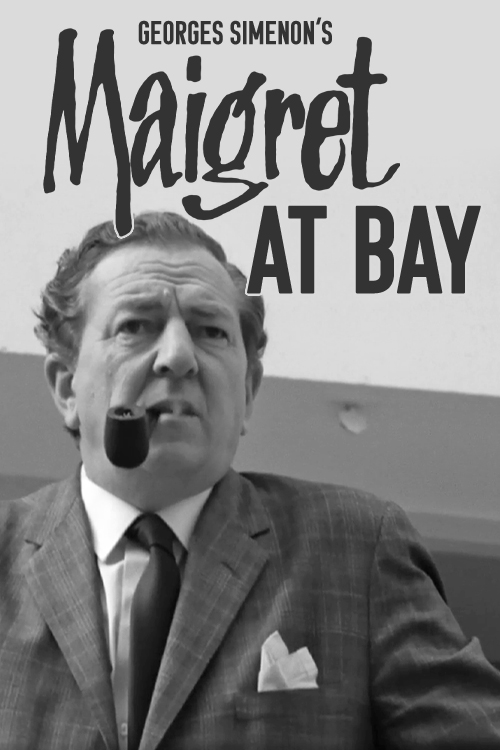 Maigret at Bay
Directed by William Slater
Year: 1969
Country: U.K.
Language: English
English Closed Captions
Adaptation of Georges Simenon's world famous novel starring Rupert Davies as Commissaire Jules Maigret, the dogged French detective. His thoughts pre-occupied by a string of daring jewel robberies, Maigret is beginning to feel his age. And when he goes to the aid of a distressed young woman, he finds out the hard way that no good deed goes unpunished.

MAIGRET AT BAY is a 90-minute "teleplay" special episode of the renowned 1960's British TV series.

Starring Rupert Davies (Commissaire Maigret) with Helen Shingler (Madame Maigret), Neville Jason (Lapointe), Gillian Hills (Nicole Prieur), Yootha Joyce (Mademoiselle Motte) and Mary Webster (Aline Palmari), Clive Cazes (Manuel Palmari), Tony Harwood (Doctor Francois Melan), Geoffrey Morris (Doctor Pardon), Martin Miller (Professeur Vivier), Hans De Vries (Acolant), Charles Leno (Director of PJ), Donald Pickering (Préfet de Police), Murray Evans (Oscar Coutant), Victor Langley (Philippe Landry), Kenneth Benda (Jean-Baptiste Prieur), Steven Zammit (Désiré), Ian Gray (Hotel Porter), Ann Tirard (Hotel Manageress), Leonardo Pieroni (Maigret's Shadow), Stanley Davies (Wine Waiter), Geoff Cheshire (Sergeant Julien), Walter Horsbrugh (Police Surgeon), Marc Barrett (Inspector Barnacle), Robin Scott (Police Inspector).
Cast
Rupert Davies
Helen Shingler
Neville Jason
Crew
Directed by William Slater
Writer Donald Bull