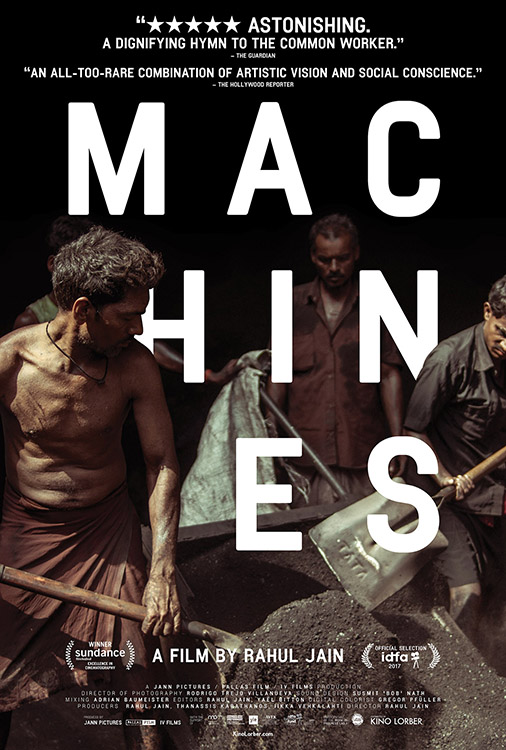 Machines
Directed by Rahul Jain
Year: 2017
Country: India, Finland, Germany
Language: Hindi, English
Marrying stunning visuals with social advocacy, Rahul Jain's debut documentary — winner of the Special Jury Award for Cinematography at the 2017 Sundance Film Festival — takes audiences into the labyrinthine passages of an enormous textile factory in Gujarat, India. Jain's camera wanders freely between pulsating machines and bubbling vats of dye to create a moving portrait of the human laborers who toil away there for 12 hours a day to eke out a meager living for their families back home. Interviews with these workers and the factory owners who employ them reveal the stark inequality and dangerous working conditions brought about by unregulated industrialization in the region. This political message is delivered amidst the unsettling beauty of the factory's mechanical underworld and the colorful, billowing fabrics it produces.
"Five stars! Astonishing. A dignifying hymn to the common worker."
---
"Displays an all-too-rare combination of artistic vision and social conscience... [a] sensory immersion into a hidden, secretive environment."
---
"Visually stunning. Frames everything with an inquisitive eye."
---
"Hypnotic and frequently beautiful. An intoxicating look at the lives of... migrant workers."
---
"Operates with an intense rhythm and visual depth."
---
Crew
Directed by Rahul Jain