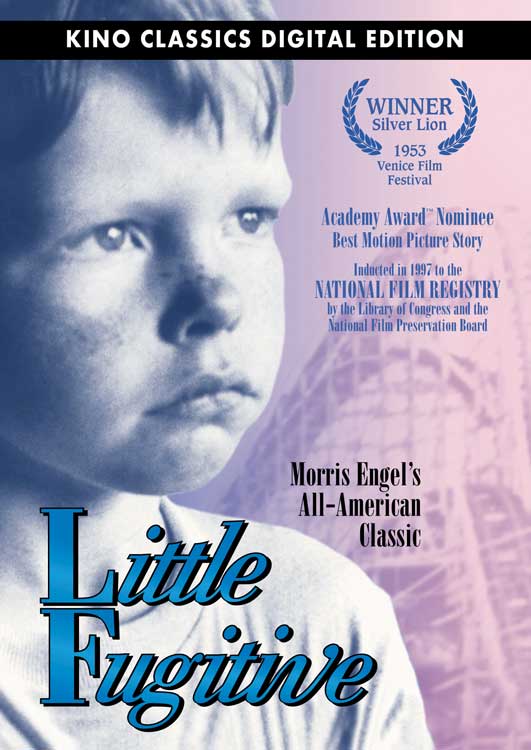 Little Fugitive
Directed by Morris Engel
Year: 1953
Country: U.S.
Language: English
Widely regarded as one of the most influential and enjoyable films of the American independent cinema, LITTLE FUGITIVE is an utterly charming fable that poetically captures the joys and wonders of childhood.

When a seven-year-old boy (Richie Andrusco) is tricked into believing he killed his older brother, he gathers his meager possessions and flees to New York's nether wonderland: Coney Island. Upon and beneath the crowded boardwalk, Joey experiences a day and night filled with adventures and mysteries, resulting in a film that is refreshingly spontaneous and thoroughly delightful.

Hailed by critics as a groundbreaking cinematic feat, LITTLE FUGITIVE won the Silver Lion at the Venice Film Festival, played in nearly 5,000 theatres in the U.S. and is now recognized as a classic of American independent film.

This Kino edition of Little Fugitive is the 80-minute version, and includes 5 minutes of extra footage not seen in the film's original 1953 theatrical release.
"Our New Wave would never have come into being if it hadn't been for the young Morris Engel...with his fine LITTLE FUGITIVE." – François Truffaut
"A riotously funny view of humanity."– NEW YORK NEWS
Little Fugitive remains a perfect gem now, 60-years, after its release. This is infinitely superior the original DVD and a great film to have on Blu-ray in my opinion. I doubt we're going to see it looking any better and I, whole-heartedly, recommend!
---
Crew
Produced by Ruth Orkin
Directed by Morris Engel