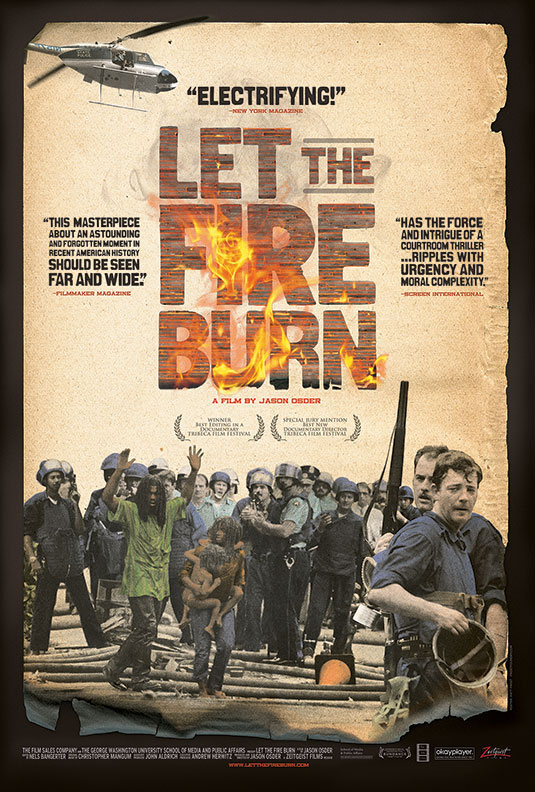 Let the Fire Burn
Directed by Jason Osder
In the astonishingly gripping LET THE FIRE BURN, director Jason Osder has crafted that rarest of cinematic objects: a found-footage film that unfurls with the tension of a great thriller. On May 13, 1985, a longtime feud between the city of Philadelphia and controversial radical urban group MOVE came to a deadly climax. By order of local authorities, police dropped military-grade explosives onto a MOVE-occupied rowhouse. TV cameras captured the conflagration that quickly escalated—and resulted in the tragic deaths of eleven people (including five children) and the destruction of 61 homes. It was only later discovered that authorities decided to "...let the fire burn." Using only archival news coverage and interviews, first-time filmmaker Osder has brought to life one of the most tumultuous and largely forgotten clashes between government and citizens in modern American history.
ELECTRIFYING!....by sticking with historical footage—much of it news reports from the scene—Osder has made a documentary that's astonishingly in the present tense.... Let the Fire Burn is a time machine. It shows there are truths out there waiting to be found—that footage already shot can make history in all its terrible finality breathe.
---
Disturbing and extraordinary.
---
A brooding, disturbing documentary about an inferno that becomes an enigma. It earns its considerable impact by telling an unnerving story and leaving it, in ways both daring and effective, fundamentally unresolved.
---
4 stars! A superb addition to the found-footage documentary genre.
---
Powerful, thought-provoking, and infuriating.
---
CRITIC'S PICK! A RIVETING CHRONICLE of the radical group Move's clash with Philadelphia authorities....Seamlessly fashioned...relives an incredible chapter in American history.
---
Building with the awful inexorability of Greek tragedy, Jason Osder's riveting documentary chronicles the escalating confrontations between the Philadelphia police and a back-to-nature African-American collective called Move.
---
A first-rate piece of forensic filmmaking.
---
There have been many documentaries comprised entirely out of archival footage, but few as powerfully and masterfully structured as this one. Weaving together field news reports, a 70s documentary about MOVE, and recorded tapes of the subsequent public committee hearings and depositions that took place months after the incident, Osder creates a visually textured and fascinating piece of storytelling that steers clear of editorialization and manipulation by allowing the content to speak for itself.
---
A superior example of the found-footage documentary. (Combines) the death-trip of a SENNA with the radical history of BLACK POWER MIXTAPE.
---
Has the force and intrigue of a courtroom thriller…ripples with urgency and moral complexity.
---
This masterpiece about an astounding and forgotten moment in recent American history should be seen far and wide.
---
Vivid and heartbreaking. Feels like it happened last week.
---
Let the Fire Burn tells a story we were stunned to realize we didn't know. It offers a time capsule, taking us to a horrific moment in our nation's history with a masterfully structured edit that vividly mines a trove of blistering period archive images without voiceover narration. The film ensures that a criminal and senseless destruction that cost eleven deaths—five children, six adults—shakes us to our core and is remembered with utter visceral power.
---
Crew
Directed by Jason Osder