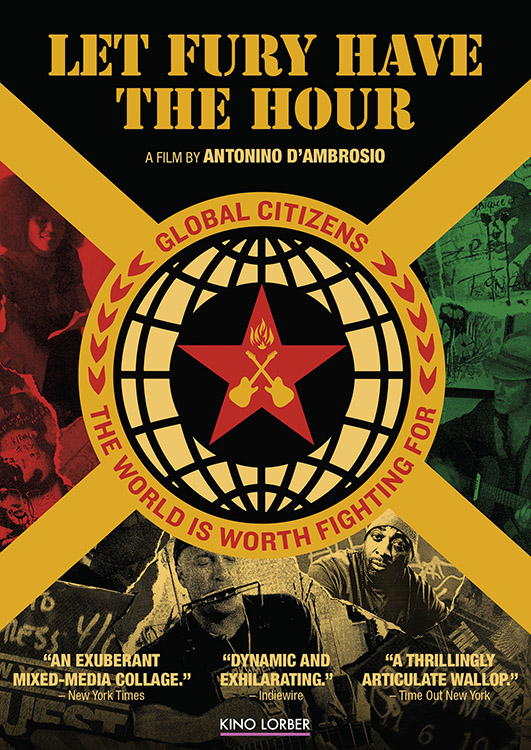 Let Fury Have the Hour
Directed by Antonino D'Ambrosio
Year: 2012
Country: U.S.
Language: English
Rough, raw and unapologetically inspirational, LET FURY HAVE THE HOUR is a charged journey into the heart of the creative counter-culture. In a time of global challenges, big questions and by-the-number politics, this upbeat, outspoken film tracks the story of the artists, writers, thinkers and musicians who have gone underground to re-imagine the world - honing in on equality, community and engaged creativity - in exuberantly paradigm-busting ways. Writer/director Antonio D'Ambrosio unites 50 powerful, of-the-moment voices - from street artist Shepard Fairey to rapper Chuck D to playwright Eve Ensler to musicians Tom Morello and Billy Bragg to novelist Edwidge Danticat to filmmaker John Sayles to comic Lewis Black - who share personal and powerful tales of how they transformed anger and angst into provocative art and ideas. D'Ambrosio presents a visceral portrait of a generation looking to re-jigger a system that has failed to address the most pressing problems of our times.
"[A] smart and inspiring - and uniquely whole -documentary ..."
---
"Once upon a time, we were, I'm told, citizens with rights," says Hari Kunzru."
---
"A curiously warm-and-fuzzy hindsight interpretation of artistic aggression, delivered by the artists themselves."
---
Crew
Directed by Antonino D'Ambrosio