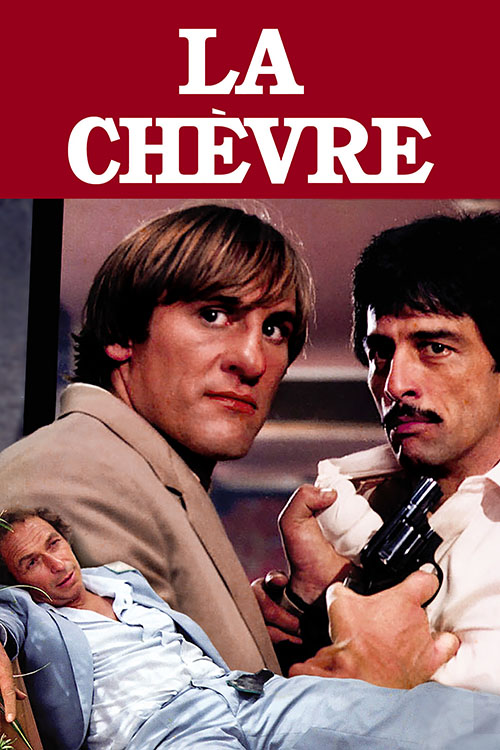 La Chèvre
Directed by Francis Veber
Year: 1981
Country: France
Language: French with English subtitles
In LA CHÈVRE, French comedy writing sensation Francis Veber (The Tall Blond Man with One Black Shoe, La Cage aux Folles) first teamed Tall Blond's Pierre Richard with Gérard Depardieu (Buffet Froid, A Pure Formality), creating a wildly eccentric and guffaw-inducing duo unlike any the screen had ever seen before. After unsuccessfully searching for a French tycoon's missing daughter in Mexico, tough-guy private eye Campana (Depardieu) is grudgingly saddled with accident-prone accountant Perrin (Richard), a would-be detective presumed to be so maladroit that he will unwittingly lead Campana to the missing girl. But once let loose in Mexico, the question becomes whether Perrin will crack the case or crack his own skull first. Depardieu and Richard's comic chemistry buoys the anarchic slapstick and shaggy-dog story with gentle whimsy and graceful humanity. Though expertly evoking Hope and Crosby, the Pink Panther films and Buster Keaton, LA CHÈVRE is catapulted into the pantheon of international movie comedy on the irresistible strength of its effortless and distinctively French flair. LA CHÈVRE was remade in Hollywood as Pure Luck, starring Martin Short and Danny Glover.
"(four-and-a-half stars) One of the funniest Gallic gifts in a long time. Richard and Depardieu make a charming hilarious comedy team peppering us with laughs galore." - William Wolf, Gannett News Service

"There appears to be nothing Gerard Depardieu cannot do well on the screen, even as a straight man teamed with the fabulously clumsy Pierre Richard." - Janet Maslin, The New York Times
---
Cast
Gérard Depardieu
Pierre Richard
Pedro Armendáriz Jr.
Corynne Charbit
Maritza Olivares
Jorge Luke
Sergio Calderón
Michel Robin
Crew
Directed by Francis Veber