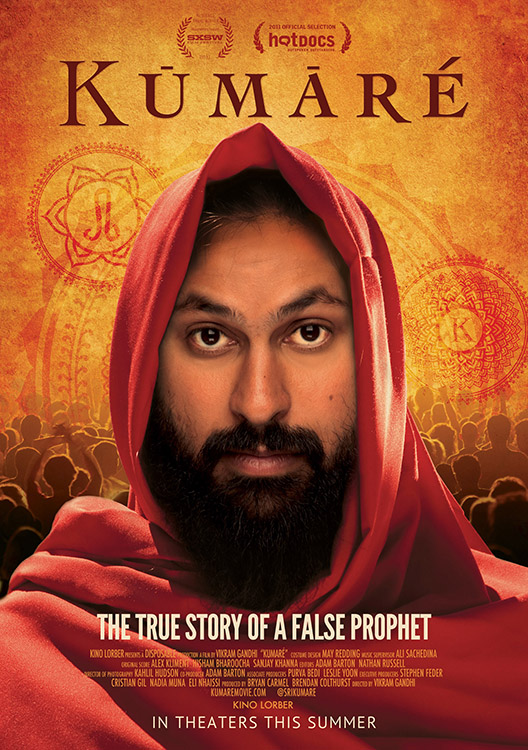 Kumaré
Directed by Vikram Gandhi
Year: 2011
Country: U.S.
Language: English
Kumaré is an enlightened guru from the East who builds a following of disciples in the West. But Kumaré is not real. He is an American filmmaker named Vikram Gandhi, who has transformed himself into Kumaré as the centerpiece of a social experiment designed to explore and test one of the world's most sacred taboos.

Concealing his true identity from all he meets, Kumaré forges profound, spiritual connections with real people from all walks of life. At the same time, in the absurdity of living as an entirely different person, Vikram the filmmaker is forced to confront difficult questions about his own identity. At the height of his popularity he reveals his greatest teaching: his true self. A playful yet genuine and insightful look at belief and spirituality, the film crosses a line few have dared to cross, that from illusion comes truth.
"Part Borat-style prankumentary and part thoughtful exploration of gurus and religion."- Adam Benzine, Realscreen
"An abundance of food for thought."-Dave Robson, Sound on Sight
"Humorous and thought-provoking without being insensitive or ridiculous." - Sarah Gopaul, Toronto Film Scene
"The perfect blend of heart, truth, and humour. It's a real winner." - Andrew Parker, Criticize This!
---
Cast
Vikram Gandhi
Crew
Produced by Brendan Colthurst and Bryan Carmel
Directed by Vikram Gandhi