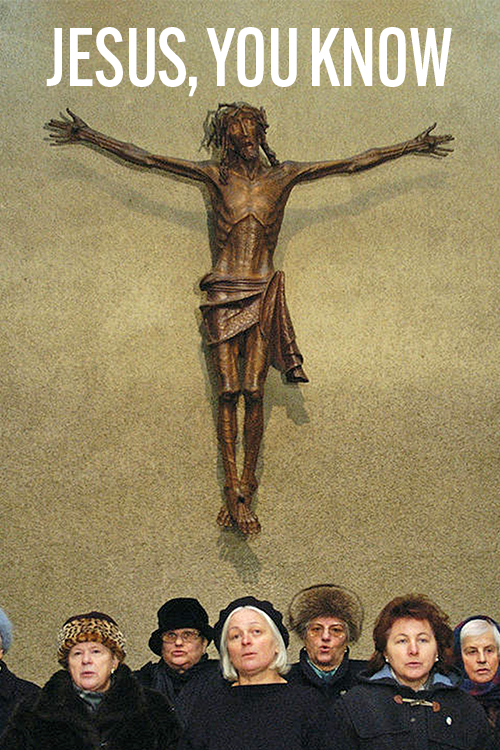 Jesus, You Know (SD)
Directed by Ulrich Seidl
Year: 2003
Country: Austria
Language: German w/English subt.
An "unblinking exploration of one of the most private of human experiences" (Dana Stevens, The New York Times), JESUS, YOU KNOW captures six Catholics -- of different ages, backgrounds and genders -- in a series of confessional dialogues with both Jesus and an omnipresent movie camera.

Directed by controversial Austrian filmmaker Ulrich Seidl (Dog Days), this "deeply moving documentary of Catholics at prayer" (Ed Halter, The Village Voice) consists of successive cinematic tableaux comprised of individual confessions made inside empty churches. Separated by nothing but choral music and brief takes from the lives of the interviewed subjects, these spoken confessions combine the invisibility of direct cinema with abrupt first-person interviews. Although registered by the camera, the confessions are invariably addressed to the divine and are uncomfortably intimate.

When a middle-aged woman stares at a statue of Jesus and nags that "problems don't get discussed..." and are "just watched on TV," she speaks to a triad of characters: herself, the camera and Jesus. And when an older man ventures into unanswerable questions ("Why did my parents abuse me?"), the church's elongated vaults turn his individual pain into rhetorical phenomenology. More concerned with complexity than with final judgments, Seidl allows every confessional instance to find its own idiosyncratic Jesus -- even while leaving the threat of existential emptiness in the final equation.

An "inventive and bold" journey into faith and humanity, JESUS, YOU KNOW will "especially resonate with people...whose strict Catholic upbringing inalterably shaped their lives." (V. A. Musetto, The New York Post).
"...Tells the truth where it counts most: In its unblinking exploration of one of the most private of human experiences." - Dana Stevens, The New York Times
"Inventive and bold." - V. A. Musetto, The New York Post
"... A remarkably voyeuristic experience that...even attains a sense of the holy." - Stephen Garrett, Time Out New York
---
Crew
Directed by Ulrich Seidl