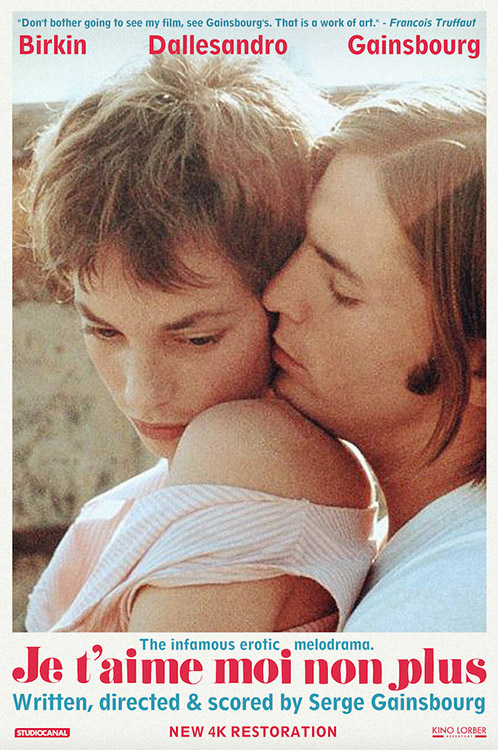 Je T'Aime Moi Non Plus (available 2/18)
Directed by Serge Gainsbourg
Year: 1976
Running Time: 88 minutes
Country: France
Language: French w/English subtitles
Cult icon Serge Gainsbourg wrote, directed, and scored this tale of doomed love between a lonely truck stop waitress (Jane Birkin) and a gay, hunky garbage truck driver (Joe Dallesandro), whose boyfriend (Hugues Quester) becomes increasingly jealous of the two. Sharing the title with Gainsbourg and Birkin's sexually-explicit 1969 hit pop song, Je T'Aime Moi Non Plus is an equally provocative depiction of sexual gratification told through an unlikely couple. 4k restoration.
"Don't bother going to see my film, see Gainsbourg's. That is a work of art."
- Francois Truffaut
"Gainsbourg, like Prince after him, came from music to filmmaking with a strong cinematic sense...he doesn't put a foot wrong. [The film is] genuinely, eccentrically Gainsbourgian."
- Glenn Kenny, The New York Times
"Whereas the original Gainsbourg-Birkin song is full of breathy, orgasmic wordplay, Je T'Aime...the film is breathtakingly wordless at times, as Birkin's boyish, sexually desperate snack bar owner and Dallesandro's brutish gay garbage truck driver(!) navigate one of the most rocky and blackly humorous relationships in all of French cinema. It's intellectually explicit, beautifully offensive, full of summer, trash and ass - an absolute must-see."
- Tillage Arts
"Simply put, Je T'Aime Moi Non Plus is one crazy film and even after forty years, it retains the power to leave even the most jaded of moviegoers startled by the on-screen goings-on. At times reminiscent of a French take on the filmography of the late, great Russ Meyer, this meditation on sex, love, lust, death and misplaced machismo is one of those rare films that could comfortably screen in arthouses and grindhouses alike while arousing outrage (among other things) from the patrons of both. As a cinematic equivalent to Gainsbourg's musical endeavors, it does cast an undeniable spell on viewers, and seeing two of the most distinctive sex symbols of the Seventies paired up together is certainly compelling."
- Peter Sobczynski, RogerEbert.com
"At once iconic and transgressive, Gainsbourg's queer-eyed view of Americana is trash of the most beautifully bleak kind."
- Film4
"A true WTF?! experience. Now that you can find Je T'Aime, it is duly worth a look, at least for fans of bizarre cinematic curios."
- 48Hills
"One of the most powerful and stripped down messages about the gay experience that the Western world would see for a couple decades. All three of the leads are fantastic and the sets, costumes and photography are as real as it gets. Check out this tasteless, and timeless, work of weapons grade angst and judge for yourself."
- Ron Wilkinson, It's Just Movies
"[Has] a sweet sadness, courtesy of Birkin's performance, that gives the film a surprising depth. Gainsbourg wrote, directed and scored Je T'Aime Moi Non Plus, and his talent for the visual rivals his musical ability. Je T'Aime Moi Non Plus is packed with masterfully composed shots that combine to create a feast for the eyes. (That the musical score is also a feast for the ears should go without saying.) It's another fitting example of what made Serge Gainsbourg such a unique and, yes, controversial talent."
- Lee Jutton, Film Inquiry
"Exploring gender, identity and sexual attraction, Je T'Aime Moi Non Plus is a romance film truly unlike anything made before or since. Paired with photographer Willy Kurant, Gainsbourg's direction is almost absurd in its level of accomplishment. Je T'Aime Moi Non Plus is an erotic thriller truly without compare. Driven by two incredible lead performances and a director in complete control of his art, Gainsbourg's debut is one not to be missed, even now 43 years later."
- Joshua Brunstig, Criterion Cast
---
Cast
Jane Birkin
Joe Dallesandro
Gérard Depardieu
Hugues Quester
Reinhard Kolldehoff
Crew
Directed by Serge Gainsbourg
Writer Serge Gainsbourg